11 Panorama Nav-Station: marine cartographic GPS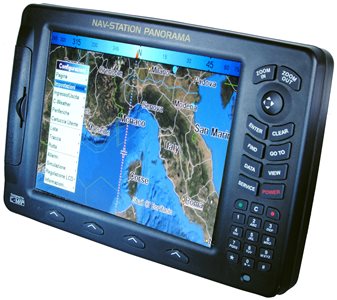 Nav-Station 11" Panorama satellite navigation system with high-brightness super VGA display and contrast.
Description
When nautical GPS plays a major role in planning your navigation, the Panorama is the ideal tool, able to show a large amount of detail thanks to the Super VGA screen with high definition and brightness.
The Nav-Station 11 Panorama has been carefully designed to meet the real needs of navigation, whether they are about reaching a destination or collecting important positioning data in a fishing trip. In addition, the 11 Panorama includes important measures that help in implementing safety during navigation, such as the anti-collision system Guardian.
On the Panorama you can clearly monitor all the map details, the fishfinder function (with optional black box), the ships on your route (via optional AIS receiver), or monitor the images from two cameras (optional).
The VGA output is also very useful for repeating information on a secondary display.
Prices
060-4430

Nav-Station 11" Panorama (external GPS)

2.123,00

€

Weight:

4

kg; Dimensions:

43

x

39

x

11

cm
Prices include VAT
Specifications
| | |
| --- | --- |
| Screen | LCD 11" - TFT color 400Cd/sqm Visible Under Sunlight |
| Definition | SVGA 800 x 600 pixels |
| Construction | IP54 (Splash-proof) |
| Cartography | C-Card Max - Worldwide Background with Satellite display up to 2 mn scales |
| User Points | 1000 |
| Routes | 50 - up to 52 Waypoints |
| GPS | Smart External GPS Antenna with Integrated WAAS System |
| Depth | With Active Transducer Graph |
| FishFinder | All FishFinder features via Black-Box |
| AIS | All information via AIS receiver |
| Camera | 2 Camera Inputs |
| Interface | 4 NMEA/FishFinder ports |
| External Memories | Via Optional User Card |
| Power supply | 10 - 35 Vdc - 17 W |
| Dimensions | 221h x 329 x 80 mm - Weight 1,7 Kg |
| More Carats. | VGA output, anti-collision system Guardian, Log |
Equipment
External smart GPS antenna
Power cable
Bracket
Protective cover
Accessories
Prices include VAT