Nav-Station is a brand of Marine Pan Service made in Italy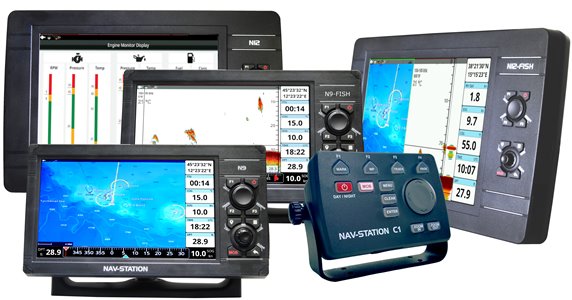 Nav-Station produces marine GPS built in Italy that stand out for their faculty, use, robustness and essentiality.
Description
Nav-Station stands for reliability
Nav-Station is a brand of Marine Pan Service born in 2001 combining the company's vast technical background and deep knowledge of the needs of the market.
We at Marine Pan Service don't believe that a navigation plotter is just a decorative element of the console, but a tool of immense value capable of making the differences in navigation performance.
What today's yachtsman wants is an instrument able to give a prompt answer to any need of navigation and the Nav-Station plotters have been carefully designed with this idea.
Nav-Station in the age of Smartphones
Nav-Station follows with interest the evolution of the use of smartphones also in the nautical sector and invites today to make some reflections. Ours is a world that is rapidly changing and it is necessary to identify new rules and principles, so that this advent of high technology translates into real benefits for fans of the sea.
Today it is admirable that the new generation has found a sixth sense in the diligent use of smartphones. There is no doubt that these smartphones or tablets can also help in navigation and that these people also benefit in the use of the boat.
But the same people, besides having to know the practice of traditional nautical charts, must also know how to use a real plotter, born, studied, designed and built to navigate in the sea and really able to perform those operations to help the nautical charts.
You go by sea in the right clothes and when the sea conditions become harsh, smartphones take cover. Nav-Station is the right dress, born, studied, designed and built in Italy to be a real plotter, or a simple unit able to navigate the sea, even when smartphones are sheltered.
Nav-Station does NOT believe that the advent of smartphones even on boats is just a fashion, but a real new way to navigate. The plotter is an aid to navigation and does not replace the traditional maps, the smartphone can also be an aid to navigation, but does not replace the functionality of the plotter.
Nav-Station: Turn on and Navigate ...
NAV-STATION simple, effective and performing. Built around the real needs of navigation, it can make your cruises more exciting, fun and safe. .
Today (October 2018) we have introduced the new N9 and N11 which represent the fusion of our experiences with today's technology, but without abandoning the idea that a plotter serves primarily to navigate and preserving the essence of our motto "Turn on and Navigate".