Marine GPS Nav-Station N9 WiFi and cloud functions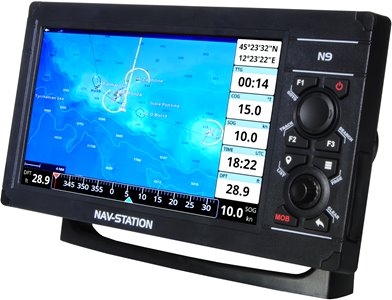 The Nav-Station N9 is a marine GPS equipped with WiFi, with "Mirror Control" and management of synchronized data in the cloud.
Description
Nav-Station N9 is a marine GPS carefully designed to meet all your navigation needs and better plan our routes.
The interface is hybrid, i.e. we can manage all the functions both with the help of traditional keys and via touch screen. In addition, we can also manage all the features on an iOS or Android device, thanks to the Mirror Control app that can transfer the same screen on the marine GPS and can operate it via the touch screen of the remote device (smartphone, tablet or smart TV, but only one device at a time).
The screen has been specially designed to allow viewing from all angles and counteract the glare of the sun. In addition, the colour shade can also be adjusted to facilitate night-time use without being dazzled.
We can synchronize our navigation data (routes, tracks, waypoints, etc.) with the Captain Cloud service (www.captaincloud.com), so we can plan our routes at home and use them in navigation. But not only that, if for any reason we were to lose our data saved on the plotter, we can retrieve them on Captain Cloud.
The Nav-Station N9 marine GPS can be interfaced with other navigation instruments, via WiFi or via cable with the traditional NMEA 2000 or 0183. Moreover, if you want to integrate fishfinder functions later on, you can purchase the Blackbox CHIRP separately.
The Nav-Station N9 works with C-Map cartography and has a pre-loaded global map with vector, raster or satellite visualization, in 2D or 3D. However, in order to go into the details of the map and view ports, docks and related services, you will need to purchase separately a special C-Map SD card, MAX or 4D MAX+ technology.
It is also available in a package version, including the 4D EM-D076.41 cartridge, which includes the entire central-western Mediterranean.
Prices
060-4510

Nav-Station N9

1.061,00

€

Weight:

2.3

kg; Dimensions:

35

x

22.5

x

12

cm

060-4512

Nav-Station N9 Package with 4D D076

1.293,00

€
Prices include VAT
Prerogative
Integrated WiFi.
Mirror Control function on App.
Data synchronization with Captain Cloud.
Automatic software update from WiFi connection.
Hybrid interface (keys and touch screen).
Built-in GPS/GLONASS.
Functions and alarms for motor control (if interfaced).
All AIS features (if interfaced with receiver).
Cartography C-Map Max or 4D MAX+
MicroSD memory slot.
Waterproof IPx6
Can be mounted on a bracket or bulkhead.
Anti-glare and ultra-bright display, 1100 nits, 800 x 480 pixels.
Dimensions 278 x 154 x 97 mm.
Equipment
White protective cover.
Bracket.
Jigsaw for flush-mounted installation.
Power supply cable/interface.
Fuse.
Accessories
Prices include VAT