XB-6000 AIS GPS transponder and NMEA router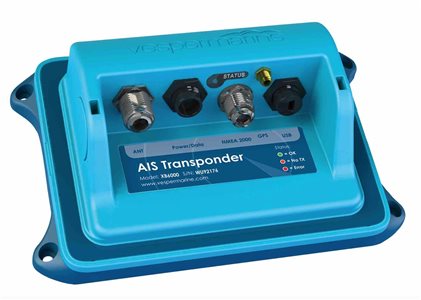 Vesper Marine XB-6000 is a class B AIS transponder with integrated GPS and NMEA router to solve the problems of dialogue between the devices on board.
Description
The Vesper Marine XB-6000 is a multifunctional device with integrated AIS transponder, high performance GPS and features the functionality of NMEA 0183/2000 router and USB.
In practice, the XB-6000 looks like the younger brother of the XB-8000 reporting all the features of the latter, but is deprived of the WiFi module and therefore the ability to easily communicate with smartphones and tablets. The XB-6000 is therefore the ideal solution for those who entrust navigation only to dedicated on-board instruments and want to save on the cost of purchase.

The XB-6000 translates NMEA 2000 signals already present on the boat and redirects them to the NMEA 0183 or USB to support all devices (plotters, PCs etc) that do not support NMEA 2000. In addition, this external data is combined with internal GPS and AIS data, so the XB-6000 can send all external and internal data back in one package. This will solve all the problems of dialogue between the various sensors and the chartplotter or navigation system on a PC or MAC.
The XB-6000 is the only AIS transponder that can be used as a GPS data source on an NMEA 2000 network and is also the only one that boasts a 5Hz GPS position update cycle.
The XB 6000 integrates a state-of-the-art AIS transponder class "B", is totally waterproof, the absorption is really minimal, includes LEDs for a self diagnostic test on the status of operation.
Prices
030-3050

Vesper XB-6000 - AIS Transponder Class B Blackbox

732,00

€

GTIN13:

0799439639010

; Weight:

2

kg; Dimensions:

36.5

x

18

x

12.5

cm
Prices include VAT
Prerogative
NMEA Gateway on 0183 and 2000.
High performance internal AIS module with 2 parallel channels
Internal GPS module with 50 parallel channels and external antenna.
AIS transmission can be set to Silent Mode (the device disables the transmission of its AIS information)
IPx7 waterproof construction
Dimensions 172 x 130 x 60mm
Accessories
Prices include VAT