Vesper Marine is a New Zealand company leader in AIS systems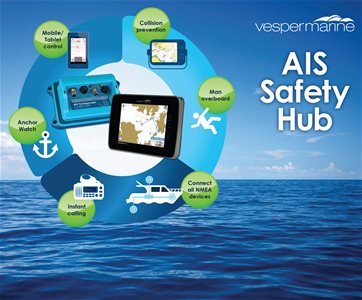 Vesper Marine is the leading New Zealand company in the production of high performance and quality AIS;.
Description
The company was founded in 2007 by Deirdre Schleigh and Jeff Robbins, after 7 years of experience gained by the two sailors on the Vesper boat.
The long sailing experience, combined with a knowledge in design, led to the founding of Vesper Marine, with the intent to create products easy to use for maritime safety and with superior technical features compared to what already exists on the AIS market.
All products are designed and manufactured in New Zealand, to ensure the best performance and highest levels of quality achieved by the ISO 9001:2008 accredited Vesper production center.
Unlike other AIS manufacturers, who simply arrange a container where to include an AIS module, Vesper Marine products are entirely built in their own production center and are internationally recognized to exceed AIS specifications and certifications.
The extraordinary sensitivity of Vesper Marine AIS devices has been adopted as a reference point for AIS receivers. It is no coincidence that Vesper Marine products have won several awards for technological innovation, such as the Freeman K. Pittman, twice the Price Waterhouse Coopers Hi-Tech, in 2012 the Plimsoll Award and the IHS Safety at Sea.