AIS transponder class B WiFi Vesper Marine WatchMate XB-8000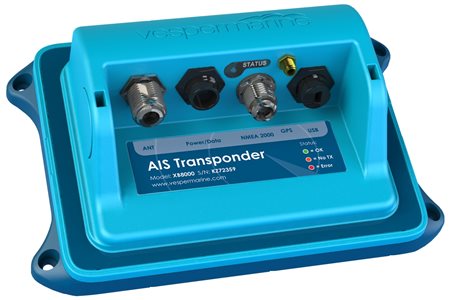 The WatchMate XB-8000 is an AIS blackbox designed to facilitate the spread of AIS technology on the boat via WiFi, USB, NMEA 2000/0183.
Description
The Vesper Marine WatchMate XB-8000 is a class "B" AIS transponder with integrated GPS that is also able to convey all the information already present on the boat in NMEA 2000 and 0183, and transmit them via WiFi throughout the boat. So we can have on smartphones and tablets all the information of all the navigation tools on the boat.
The Vesper Marine XB-8000 is in fact a "3 in 1" instrument: AIS Transponder + GPS, WiFi router + USB and NMEA Gateway on 0183 and 2000.
The Watchmate XB-8000 can connect up to 5 instruments at the same time. This way you can connect your laptop, smartphone, tablet and other devices at the same time. For even larger networks, the XB-8000 can be connected to an external WiFi router.
The AIS Navigation App is free of charge and is available for both Android and iOS systems, so that the entire crew can have full availability of all features in every part of the boat. WiFi can be configured as an Access Point or Client, and WPA/WPA2 security protocols can be set.
From September 2017 deckWatch, a smartwatch app for Android systems Wear2, is also available, representing a concentrate of this technology with alarms and navigation data.
Prices
030-3100

Vesper XB-8000 - AIS Transponder Class B Blackbox

976,00

€

GTIN13:

0609728265359

; Weight:

2

kg; Dimensions:

36.5

x

18

x

12.5

cm
Prices include VAT
Prerogative
WiFi router and USB connectivity.
NMEA Gateway on 0183 and 2000.
Free navigation app for tablets and smartphones on iOS and Android systems.
Free deckWatch app for smartwatch with Android system Wear2.
Possibility of remote control from smartphone or tablet.
Via WiFi it sends the data used by the navigation programs.
Free subscription for 3 months with NavPlay navigation software (from March 2014).
High performance internal AIS module with 2 parallel channels.
Internal GPS module with 50 parallel channels and external antenna.
AIS transmission can be set to Silent Mode (the device disables the transmission of its AIS information).
IPx7 waterproof construction.
Dimensions 172 x 130 x 60 mm.
Accessories
Prices include VAT