Iris PTZ-16T: Controllable thermal camera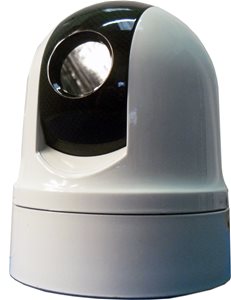 Controllable thermal camera Iris PTZ-16T, 4x digital zoom, various display modes, auto-cruise function, 100 positions can be stored.
Description
Thermal Control Camera
It works with a particularly advanced uncooled sensor and British production, which is able to detect the maximum of the details in conditions of complete absence of light.
It maintains the same housing as the IM-PTZ-16 model and therefore has the same construction features such as robustness, attractive appearance, adjustability, precision in pointing, environmental protection (IP66), small size and weight.

Digital zoom function up to 4x, 5 display modes (Automatic, Night, adverse conditions, port and MoB), 100 positions that can be stored, 40 positions that can be used for the auto-cruise function, controllable via RS485 serial port or via optional controller code 255-2140, 1A absorption, operating temperature from -25°C to +70°C.
Two models available: the PTZ-16T-9-L model has a resolution of 384x288 pixels and a frame rate at 8Hz, the PTZ-16T-25-H model extends the resolution to 640x480 pixels with a frame rate at 25Hz.
The ability to see clearly at night or in adverse conditions has always been the dream of every yachtsman, today this desire comes true through this sophisticated and elegant thermal camera at an affordable price.
Cable Camera 3,4 mt
Video cable with BNCm
Power cable with connector
Control cable with bare wires
Prices
254-2110

IRIS IM-PTZ-16T-9-L Thermal Camera - 9Hz 384x268

10.126,00

€

GTIN13:

5060241170356

; Weight:

2.5

kg; Dimensions:

30

x

24

x

29

cm

254-2120

IRIS IM-PTZ-16T-25-H Thermal Camera - 25Hz 640x480

12.566,00

€

Weight:

2.5

kg; Dimensions:

30

x

24

x

29

cm
Prices include VAT
Accessories
Prices include VAT