SevenStar 2RxPRO: Dual channel AIS receiver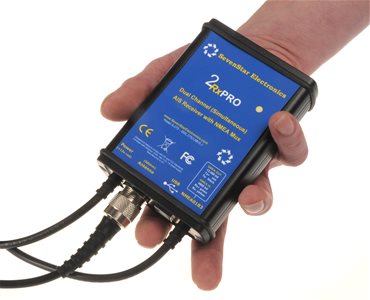 Receiver AIS channels (A and B) 2RxPRO SevenStar, NMEA 0183 and USB output, NMEA 0183 integrated dialer, status LED.
Description
The 2RxPRO is a dual channel AIS receiver with NMEA 0183 and USB output. Unlike other AIS receivers, which monitor both AIS channels with a single receiver, the SevenStar 2RxPRO is equipped with two separate receivers, each dealing exclusively with its own channel. This prevents any loss of reception data (as with all single-channel receivers).
No adjustment is necessary, just install a VHF antenna and connect the 9-28 Vdc power supply (with only 1W consumption at 12Vdc). By connecting your PC or marine GPS using the USB or NMEA 0183 output you can view all AIS data. In addition, if all inputs are already occupied, the Sevenstar 2RxPRO is also equipped with an NMEA dialer that allows you to also receive the NMEA 0183 signal (4800 bps) from your GPS antenna or other device and send them directly to the marine GPS, so you do not need to use another port.
Dimensions: 110x80x32 mm
Prices
030-1000

SevenStar 2RxPRO AIS receiver

376,00

€

Weight:

1

kg; Dimensions:

28

x

20.5

x

8

cm
Prices include VAT
Prerogative
Receives both AIS channels (A and B) at the same time
Exceptional sensitivity
Integrated multiplex to combine NMEA 0183 data
Small size, low cost, easy installation
Metal houses
Professional waterproofing grade
Status LED
PL-259 connector for VHF antenna
USB Type B connector (as on printers)
Power supply 9,6-28Vdc
Absorption 90mA
NMEA 0183 output at 38.4700 bps
NMEA 0183 input at 4800 bps
RF Bandwidth 25Khz
RF sensitivity better than -107dBm at 20% PER
Equipment
1.5 m power cable
NMEA 0183 interface cable 1,5 mt
Manual
Accessories
Prices include VAT