Vesper Marine Cortex V1 VHF, DSC, AIS, GPS, WiFi, 4G system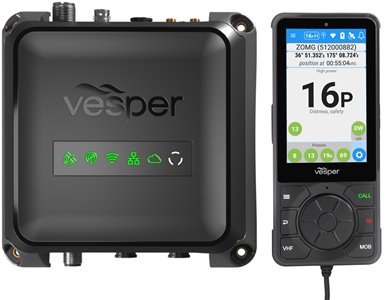 The Cortex V1 from Vesper Marine is a VHF/DSC with integrated AIS, 4G SIM, WiFi, GPS, compass sensor, barometer and NMEA gateway.
Description
The Cortex V1 is a multi-station VHF/DSC that takes advantage of AIS, 4G, GPS, NMEA gateway and other sensor technology to give you features that were previously only found on complex marine systems.
The handset is actually a smart device that resembles the common smartphone, it comes with the V1 in the wired model (model H1), but you can buy separately the WiFi one (model H1P). In addition, all features except those related to VHF/DSC, can be used on the smartphone, via free app.
The handset is connected to the blackbox (model M1) which processes and provides all the data. The blackbox is equipped with an internal splitter, so the installation is simplified, having to mount a single VHF antenna, without buying a separate splitter.
The blackbox also provides the NMEA Gateway functionality that allows you to aggregate all the data already present in the boat and thus have them available in this system.
Through the SIM we can remotely monitor from our smartphone all the data that have been integrated into the system and eventually set specific alarms, which warn, for example, if there is water in the bilge, or if the boat is outside a certain area etc.
You can get two updates a day for free, or subscribe to the"Cortex Premium" where there are no limits to updates and alarms will be received in real time.
In addition to the"Cortex Premium" you can also benefit from the Anchor Watch and Geofence functions remotely.
The"Cortex Premium" costs 19.95 Euro per month or 159.95 per year and is a subscription that you have to subscribe directly from Vesper services (the app will guide you towards this direction).
The most interesting features come from the integration of VHF/DSC withAIS and GPS. For example, detecting (via AIS/GPS) a boat on the display, we can with a simple tap on the symbol of the boat, selectively call that boat via DSC, and then switch to voice mode with the VHF.
The flagship of the Cortex are some features that have been optimized over the years by Vesper as the anchor watch, the anti-collision system and the man overboard mode.
The Cortex, like all Vesper models, can be updated automatically via WiFi, so all new features, which will be integrated over time, will always be available on your Cortex.
Prices
020-4100

Vesper Marine Cortex-V1 - VHF/DSC/AIS/Monitor

2.111,00

€

GTIN13:

0797776885848

; Weight:

2.5

kg; Dimensions:

32.5

x

22

x

15

cm
Prices incl. VAT
Prerogatives
AIS class B transponder on SOTDMA protocol.
VHF/AIS with integrated zero-loss splitter.
Integrated SIM for remote monitoring.
NMEA Gateway for 0183 and 2000.
Vocal signalling of the alarms.
Features (excluding VHF/DSC) also managed by free app on smartphones.
Handset with audio power up to 85dB.
IPx7submersible handset
Display with Gorilla technology glass.
Display visible in any lighting condition.
4" high definition display.
Key or touchscreen control.
Automatic software update via WiFi.
Touchscreen usable with gloves or wet hands.
Direct DSC call with a tap to the boat on screen.
Remote monitoring of your boat with insertable alarms.
Anti-collision functionality.
Anchor Watch functionality.
Man overboard functionality.
Equipment
H1 handset.
SIM
Passive GPS antenna with base for external installation.
Extension cable for passive GPS antenna with SMA Male-Male connector.
Cable for external loudspeaker connection with conxall 4pin connector for connection to the Blackbox M1 and open wires for connection to theloudspeaker.
Power supply cable with conxall 2pin connector for connection to Blackbox M1 and with bare wires for power supply connection.
I/O cable NMEA0183 interface.
Antenna for WiFi.
Accessories
Prices VAT included