Vesper Marine Cortex H1 wire handset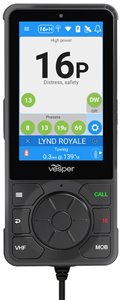 The Cortex H1 handset from Vesper Marine is included in the V1 model but can also be purchased separately as a second station.
Description
The H1 is the corded handset of the Cortex system. The H1 is already included in the Cortex V1 system, but for those who prefer to set up a second station, the H1 is available as a separate accessory.
For those who prefer to have more "free" stations, then we suggest to buy the model H1P, which is the same in functionality, but connects via WiFi for full portability.
Prices
021-7510

Vesper Marine Cortex-H1 - Wire handset

720,00

€
Prices include VAT
Accessory Compatible With
Prices include VAT