SevenStar SeaVieweR AIS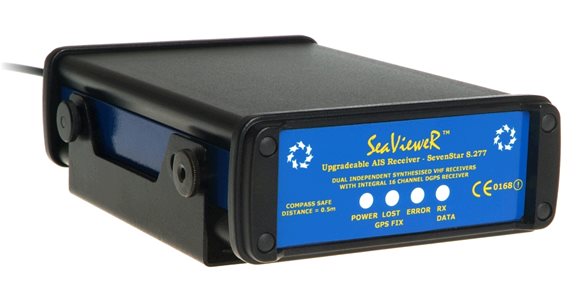 Discontinued
SevenStar receiver Model SeaVieweR AIS, equipped with two separate receivers for AIS channels A and B, VHF antenna and optional GPS.
Description
It offers the original possibility of being converted into a "B" class transponder, thus leaving the user the possibility to become familiar with AIS technology and only then take the step to take advantage of this system in all its advantages.
Unlike other AIS receivers, which monitor both AIS channels with a single receiver, the SeaviewR is equipped with two separate receivers, each dealing exclusively with its own channel.

The SeaVieweR can be easily interfaced with any chartplotter, PDA or PC equipped with appropriate navigation software with AIS functionality. The SeaVieweR is also able to provide these systems with GPS position.
The VHF and GPS antenna must be purchased separately.

Dimensions: 180 x 110 x 40 mm
IP65 construction
Prices
030-1100

SevenStar SeaVieweR AIS/GPS Rx

781,00

€
Prices include VAT
Equipment
Instruction manual
RS232 serial interface cable
Software CD
Bracket
Accessories
Prices include VAT
Series
AIS Automatic Identification System
It is a collision avoidance and coordination system for maritime traffic that allows you to monitor the position and other relevant information of vessels equipped with AIS transponders (transmitters).
Normally chartplotters have the ability to process this data and therefore are able to represent on the chart the position of these vessels, along with other relevant information such as course, speed, name, MMSI, type, size and many more.
The frequency used is VHF and therefore the range is normally between 10 and 30 miles.
AIS
models There are currently two classes in use: class "A" is reserved for ships (mandatory for gross tonnage > 300t.), while class "B" was created for all other uses (pleasure) and is more limited in the power output, in the number of information (however abundant) and in the frequency with which they are transmitted.
There are also models limited to reception only (passive AIS) that can therefore receive information from other vessels, but cannot transmit their own to the system. They cannot therefore inform others of their position and therefore the level of safety offered is much more limited: no one would drive with the lights off believing that the lights of the other vehicles are sufficient.
For these reasons the transponder (or AIS active or unit capable of receiving and transmitting) class "B" is the unit recommended for recreational use.
Information from Class "B"
? MMSI
? SoG (Speed Over Ground)
? Position
Error ? Latitude and Longitude?
CoG (Course Over Ground)
? Course Vera
? Date/Time of information
? Name of the vessel
? Type of boat
? Dimensions of the vessel
? Position in the vessel where the GPS is installed
? Type of differential receiver installed
AIS transponder, why
? It is not only an important tool to avoid collisions, but also makes itself useful in all emergency situations. For example, when we need to contact boats in the vicinity or allow rescuers to better locate their location. Let's not forget also that knowing the presence of other boats improves the perception of the situation, thus making the choices of the captain more aware.
Because of these peculiarities, AIS is becoming more widespread, especially for the following users:
? Sailing boats that sail at a distance
? Racing boats (in some regattas is required)
? In deep-sea
fishing? In coastal fishing (trolling, boiling, diving)
? For those who prefer the roadstead
? Who often sails near the ports
? To monitor friends
' boats ? For those who sail abroad (in some countries it is required)