Exposure OLAS GUARDIAN MOB System for engine shutdown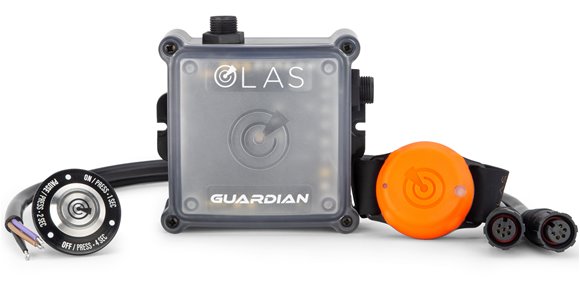 The GUARDIAN is integrated into the Exposure OLAS system to automatically shut down the engine in case of man overboard (MOB).
Description
The GUARDIAN is a device that is integrated into the MOB OLAS system of Exposure for the detection in case of a man or a pet falling overboard.
The GUARDIAN, designed specifically for motorboats, works with OLAS TAG(the small bracelet) and OLAS Float-On receivers. If a person or animal wearing these receivers falls overboard, the GUARDIAN detects it and deactivates the engine.
GUARDIAN is useful to stay in the place where the accident occurred, save valuable time and concentrate immediately on detecting the unfortunate person on sight. If it is the captain who falls overboard and the rest of the crew is on deck, then the GUARDIAN could also make a difference to the survival of the man at sea and the safety of the crew.
The GUARDIAN can connect up to 15 receivers and the installation requires only a 21 mm hole in the console to house an elegant switch, equipped with a siren and LEDs, to better warn of the eventuality.
Prices
034-0710

Exposure OLAS GUARDIAN - MOB x engine shutdown

279,00

€

GTIN13:

5060369154566

; Weight:

0.6

kg; Dimensions:

23.5

x

12.5

x

5

cm
Prices VAT Included
Prerogative
Mute the engine after 2 seconds in case of man overboard (MOB)
After 5 seconds after the alarm has been activated, the engine can be reactivated.
Possibility to deactivate other users in case of MOB.
Multiple features with the free app for iOS or Android, to easily customize all transmitters.
Each individual transmitter can be customized with the trip time for engine shutdown (for the captain), for sound alarm only (for the crew) or paused (for people leaving the boat).
Integrated 85dB alarm and possibility to connect a second external serena.
LED on the switch for settings and operating mode (red in case of alarm, green in normal mode).
During installation it is possible to choose whether to use it only as an audible alarm or to activate the engine shutdown mode.
The "Pause Mode" allows you to leave the engine running and maybe go down to the dock temporarily.
Suitable for motor boats up to 50 feet or up to 80 feet with OLAS EXTENDER.
Power supply for 12 or 24 Vdc boats.
Dimensions 92 x 90 x 38 mm, weight 210 gr.
Features
GUARDIAN control unit
One OLAS TAG
Steel control switch.
Cable for engine shutdown.
Screws for installation