Exposure OLAS Float-On MOB function on app and strobe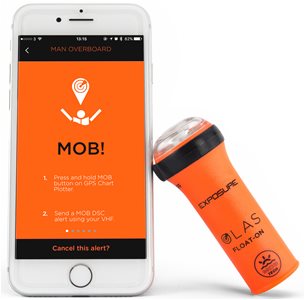 Following the success of OLAS, OLAS Float On is born, the intelligent torch/strobe that signals the presence of man at sea.
Description
The OLAS Float-On is the first device dedicated to the recovery of man at sea that benefits from two visual mechanisms for signalling and recovery.
In fact, in the case of a man at sea, after 6 seconds the strobe is activated and after 8 seconds the app scans a siren together with a light impulse.
So the app will lead you in the direction of the loser.
The few seconds of delay are necessary for the system to interpret the signal well and prevent it from being a false alarm.
The strobe has a 1-second intermittence with a 24-hour range and is visible up to 3 miles away. The Float-On can also be used as a simple torch, with a particularly wide beam of light and maximum brightness of 120 lumens.
To operate the OLAS Float-On takes advantage of a water switch that triggers the strobe, while the app monitors the torch through a bluetooth module located inside. As the Bluetooth range is about 10 meters, the OLAS Float-On is not suitable for use on boats over 50 feet.
Prices
034-0600

Exposure OLAS Float On - Flashlight MOB x Smartphone

120,00

€

GTIN13:

5060369152906

; Weight:

0.2

kg; Dimensions:

15.5

x

12.5

x

5

cm
Prices include VAT
Prerogative
Characteristics of the torch
Integration with OLAS app for Android or iOS.
Floating.
Waterproof.
Strobe with self-activation on contact with water.
Battery charge status indication.
Fast USB charging in 3 hours.
Torch with 3 lighting levels (120, 50, 10 Lumen).
Suitable for boats up to 50 feet.
Dimensions 83 x 34 mm
Weight 45 grams
App Features
Connects up to 8 OLAS devices.
One device can connect to multiple smartphones and tablets.
Free app for Android or iOS devices.
In the case of MOB, it emits the sound of a siren and a light signal.
Stores the time and GPS coordinates where the incident occurred.
Shows the direction and distance to the man overboard.
Summary page of the data to be transmitted in the event of a call to the coastguard.
Page that remembers the maneuvers to perform in case of man overboard.
The app can connect any OLAS device (whether clock-shaped or Float-On) without distinction.