Exposure OLAS TAG MOB signaling bracelet for smartphones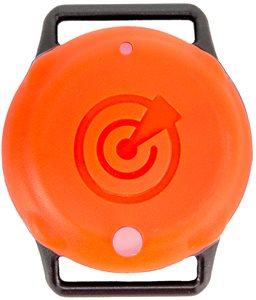 OLAS is the bracelet of Exposure Lights that allows you to make sure of the presence on board of your crew and to report the possibility of man overboard.
Description
OLAS TAG allows you to gain confidence in the presence on board of your crew.
On your smartphone, with its app, you can make sure of the presence of those who have worn the bracelet and you are alerted in case of man overboard.
The bracelet, with a Bluetooth module inside, is specially designed to be worn by the crew, pets or objects. The strap is comfortably rubbery and fastens like a wristwatch, but you can take it off and insert the OLAS TAG on a life jacket strap, or you can place it on any tube or safety device, such as the raft or EPIRB.
You can connect up to 8 wristbands on one smartphone and each wristband can be interrogated by multiple smartphones. The range of Bluetooth is about 10 meters and is therefore suitable for boats up to 40 feet.
The app is available for free for Android and iOS systems. In case of a man overboard, it emits a siren sound, emits a light signal, stores the time and coordinates where the accident happened, then the app shows you a screen with clear indications for the approach to the unfortunate (MOB).
Prices
034-0500

Exposure OLAS - Bracelet x MOB Smartphone System

55,00

€

GTIN13:

5060369152333

; Weight:

0.1

kg; Dimensions:

13

x

8

x

5

cm

034-0540

Exposure OLAS Pack - Case with 4 OLAS units

209,00

€

GTIN13:

5060369152821

; Weight:

0.3

kg; Dimensions:

15.4

x

10

x

6

cm
Prices VAT Included
Prerogative
MOB system for smartphones.
Bracelet equipped with Bluetooth.
Connects up to 8 bracelets to a smartphone or tablet.
A bracelet can be connected to several smartphones or tablets.
Free app for iOS and Android devices.
The In case of MOB app emits the sound of a siren and a light signal.
Stores the time and GPS coordinates where the incident occurred.
The app shows the direction and distance to the man overboard.
The rubbery bracelet is easily worn on the wrist, to any object or animal.
Summary page of the data to be transmitted in case of an emergency call to the Coast Guard.
Page that recalls the manoeuvres to be carried out in case of man overboard.
Suitable for boats up to 40 feet.
Bracelet with 5 months battery life and low charge alarm.