Nav-Station N12-Fish: CHIRP technology and Mirror Control apps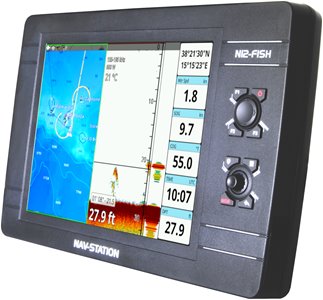 The Nav-Station N12-Fish is a marine GPS that incorporates a sounder with advanced CHIRP technology and the Mirror Control app to engage the group.
Description
Nav-Station N12-Fish is a complete navigation tool that can meet the best expectations in the field of sea fishing.
With the Mirror Control app, we can place a second control station in the aft fishing area, where we can monitor the same screen as the N12-Fish on a smartphone or tablet. So you can monitor the information from this area and also have the opportunity to interact, perhaps simply to highlight information eluded by those who pilot. This prerogative also has benefits in stimulating the cohesion of the group during fishing.
The fishfinder function is based on CHIRP technology, carefully refined for the best identification of the fish and the bottom. We can in fact have a good distinction of the various details on the high depths (up to 500 mt. with specific transducer) and have an even better discernment on shallower depths.
The plotter's functionality is also excellent for use on fishing trips. Particular attention has also been given to the management of the tracks, which form a real database fully customizable. For example, for a certain track it is easy to change the color, convert it to a route, hide it or display it.
The Captain Cloud service is particularly useful to have a backup of all our stored data (routes, tracks, waypoints etc). It also makes it a particularly effective tool for post-analysis, i.e. the study of the routes taken, in order to better plan the next fishing trips.
Nav-Station N12-Fish interfaces with other instruments via WiFi, or via the traditional NMEA 2000 or 0183 cable.
The Nav-Station N12-Fish has a world-wide pre-loaded map, but to get to the details of the map you need to buy a special C-Map SD card cartridge, MAX or 4D MAX+ technology separately.
It is also available in a package version, including the 4D EM-D076.41 cartridge (all central-western Mediterranean) and the Airmar TM150M stern transducer with CHIRP technology. If you would like to install a through transducer, you will need to purchase the basic model and separately the transducer and the desired cartridge.
Prices
060-4560

Nav-Station N12-Fish - Without Transducer

2.574,00

€

Weight:

4

kg; Dimensions:

43

x

34.5

x

14

cm

060-4562

Nav-Station N12-Fish Package 4D D076 + Stern Transducer

3.343,00

€
Public prices including VAT - Dealer prices excluding VAT
Prerogative
Fishfinder with CHIRP technology.
Integrated WiFi.
Mirror Control function on App.
Data synchronization with Captain Cloud.
Automatic software update from WiFi connection.
Hybrid interface (keys and touch screen).
Built-in GPS/GLONASS.
Functions and alarms for motor control (if interfaced).
All AIS features (if interfaced with receiver).
Cartography C-Map Max or 4D MAX+
Waterproof IPx6
Can be mounted on a bracket or bulkhead.
Anti-glare and ultra-bright display, 1250 nits, 1024 x 768 pixels.
Dimensions 391 x 258 x 150 mm.
Equipment
White protective cover.
Bracket.
Jigsaw for flush-mounted installation.
Power supply cable/interface.
Fuse.
Accessories
Public prices including VAT - Dealer prices excluding VAT