Snooper WPT250PP: Marine GPS Tracker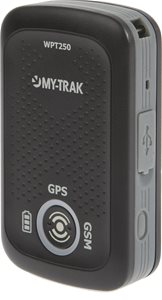 Discontinued
Snooper WPT250PP marine locator with 1 year free fee, settable alarms for entry or exit from a certain area.
DescriptionThe
new WPT250PP replaces the popular WPT250 and is distinguished by staying inside a new SIM, with a prepaid subscription year according to the "basic" option (details later in this description).
The Snooper Tracker WPT250PP is an advanced GPS/GSM/GPRS tracker to accurately monitor the movement of any asset, animal or person.
In fact, when the instrument is activated, the movement can be monitored through the online service www.my-trak.eu, which can display the position of the WPT250PP on a road map, satellite or hybrid and also allows you to consult statistical data on the route taken. The WEB service can also monitor the movement of multiple WPT250PPs, so that the movements of an entire fleet or team can be kept under control.
Allows you to set alarms to automatically send an SMS or an email, to warn when the subject comes out of a zone (eg to be warned of a theft) or when it enters a zone (eg to signal the achievement of a goal or alarm in case of a danger zone). It is also possible to set alarms on operating events such as low battery charge, power on, power off or when entering or exiting standby mode.
In case of emergency you can press the "SOS" button that allows you to automatically send an SMS or an email to up to 5 different phone numbers or addresses.
It is also possible to request information from a mobile phone (previously authorized) and the WPT250PP will send an SMS with various information including the location and a link, which in case the mobile phone is enabled for Internet navigation, will lead you to view on a map (road, satellite or hybrid) the exact location of the locator.
All settings (alarms, addresses, etc.) can be easily entered from the WEB service www.my-trak.eu, thus ensuring an easy and precise customization of the functions of the WPT250PP.

The small size (7.3cm x 4.3cm x 1.8cm) and the reduced weight, only 57g, make the Snooper WPT 250M a space-saving instrument, which can be installed on any property, without creating problems of space, especially in the boat or in the engine compartment (even in outboard engines), in which it can be installed thanks to the fixed installation kit included in the package.
It is equipped with a battery that gives the WPT250PP an autonomy of 72 hours and requires a charging time of about 3 hours, the construction is waterproof (IPx5). Equipment includes a 12 V fixed power cable and an external GPS antenna for permanent installation on the boat.
At the end of the free subscription ...
After the first year of use with a free subscription, if you wish to continue using the WPT250PP, you will need to provide a paid subscription, with the following options:

The "basic" option provides a subscription for at least 3 quarters, with a cost per quarter for 25.00 Euro and allows you to monitor the position (with historical data up to 3 months back), send 20 emails and 20 SMS per month.
The monthly option, which costs 9.50 Euro per month (114.00 Euro for the whole year), allows you to monitor your position (with historical data up to 12 months back), send 20 SMS per month and an unlimited number of emails.
It is also possible to integrate 20 additional SMS per month at a cost of 9.50 Euro, or integrate 50 additional SMS at a cost of 19.50 Euro per month.
Please note: even during the first year where the subscription is free, the www.my-trak.eu service requires authentication and credit card details, so that in the absence of a cancellation, the service can be automatically renewed after the first year and thus ensuring the continuity of the service.
Prices
040-0270

Snooper WPT250PP Marine - 1 Year Free Fee

300,00

€

Weight:

1

kg; Dimensions:

24.5

x

17.5

x

6.5

cm
Prices include VAT
Prerogative
View the location of one or more WPT250s on www.my-trak.eu on a road, satellite or hybrid map.
On www.my-trak.eu you can also consult statistical data on the route taken.
Customizing instrument settings at www.my-trak.eu
Alarms sent by SMS or email: out of range, reaching target, low battery level, on, off, standby.
SOS" button to send emails or sms to 5 different destinations.
From a mobile phone you can request information about the operating status and the position displayed on the map.
The first year of subscription is free.