WPT110 CruzPro: Seawater Thermometer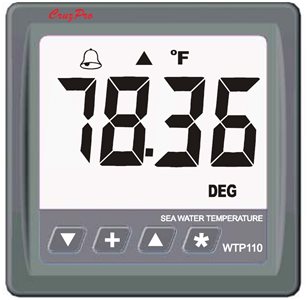 CruzPro WPT110 digital seawater temperature indicator, manual calibration, resolution 0.01°C from 0.00° to 37.77°C, min/max temperature alarm.
Description
The CruzPro WPT110 is a digital seawater temperature thermometer with a resolution of 0.01 °C or °F. Today's fishermen use precise studies to determine the greater probability of the presence of fish at varying water temperatures. For maximum accuracy, the measured temperature can be calibrated from the front panel.
It is possible to set minimum/maximum temperature alarms and display the temperature trend if constant, increasing or decreasing. 5 levels of backlighting can be selected and all settings, calibrations and alarm values are stored in a permanent memory.
It uses standard 10 kOhm and 30 kOhm sensors for detection, which can be purchased separately as the CruzPro TMT-1. Displays temperature from 0.00 °C (32.00 °F) to 37.77 °C (99.99 °F) with hundredth of a degree accuracy. The unit of measurement can be selected from the front panel.
The measured °C and °F data can be sent via NMEA standard 0183 4800 bps to an NMEA repeater such as the CruzPro RP30, RP110, MaxRP110 and MaxVu110.
Technical characteristics
Power supply voltage: 9.5 - 33 Vdc
Display: 4 digits, with 5 levels of backlighting
Absorption: 0.045 Amps nominal
Data: 0.00°C (32.00°F) to 37.77°C (99.99°F)
Resolution: +/- 0.01 °C or °F (user selectable)
Input: Standard NTC sensors 10 kOhm or 30 kOhm, Purchased separately
Alarm: minimum and maximum temperature
NMEA 0183 serial output at 4800 bps ($VWMTW, $IIXDR )
Dimensions: 110x110 mm
Built-in hole: 55 mm
Prices
120-5510

CruzPro WPT110 Sea Water Thermometer

464,00

€

Weight:

1

kg; Dimensions:

13

x

13

x

16

cm
Prices include VAT
Equipment
Bolts
Bracket for recessed installation
Accessories
Prices include VAT