CruzPro RP110: Digital NMEA repeater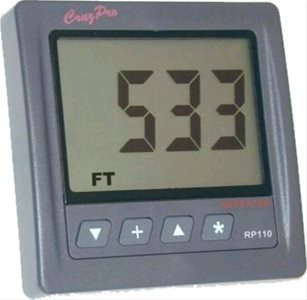 NMEA digital repeater CruzPro RP110, displays over 200 sentences, 12/24 Vdc power supply, 4 separate inputs with automatic search sentences.
Description
The RP110 is an NMEA 0183 repeater with digital reading capable of displaying over 200 NMEA Standard or Owner judgments. It can monitor up to 4 separate channels and can be programmed to read new sentences. The format of the new sentences can be downloaded and saved in the "flash" memory of the instrument using a PC with RS-232 serial port. More than 10 new sentences are programmable and can be overwritten a million times. It has an automatic system for searching for sentences on all NMEA inputs.
Allows the user to set 5 levels of backlighting to have the correct display of the screen. All settings, calibrations and alarm values are stored in a non-volatile memory. The RP110 can be powered by both 12 and 24 Vdc and only absorbs 0.035 Amperes.
Technical characteristics
Power supply voltage: 9.5 - 33 Vdc
Display: 4 digits, 5 levels of backlighting
Absorption: 0.035 Amps nominal
Data: 200 pre-programmed NMEA 0183 senteze, Flash memory to download another 10 sentences and reprogram them 1 million times
Input: 4 separate NMEA 0183 inputs
Dimensions: 110x110 mm
Built-in hole: 55 mm
Prices
120-5210

CruzPro RP110 Intelligent NMEA Repeater

465,00

€

Weight:

0.4

kg; Dimensions:

13

x

13

x

16

cm
Prices include VAT
Equipment
Bolts
Bracket for recessed installation
Series
Highly reliable, wide-screen, clear motorboat instrument series for easy reading of data from a distance. They are equipped with NMEA 0183 output so that the detected information can also be transmitted to other instruments or systems.
The construction is elegant and suitable to better decorate the consoles of the boats.
The instruments are all 110 x 110 mm in size, require a 54 mm diameter recessed hole, "non-volatile" memory and five levels of backlighting.