MaxRp110 CruzPro: NMEA 0183 repeater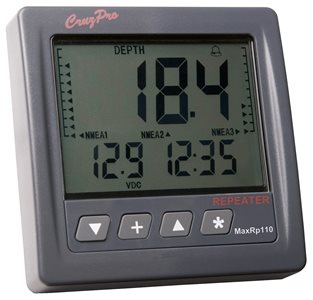 The CruzPro MaxRp110 is a programmable NMEA repeater for any judgement and simultaneously displays the values of 5 different measurements.
Description
The CruzPro MaxRp110 is a programmable NMEA 0183 repeater with the ability to display over 5800 judgments. It has 4 data inputs and is able to receive 2 sentences for each input. It can display 3 data numerically and 2 others on lateral scales. Repeat data such as Depth, Speed, Water Temperature, GPS Course to Waypoint, Distance to Waypoint, Wind Speed, Battery Voltage, Tank Levels, etc.
The user can decide which of the 5 data to display for each of the 16 different Display Configurations. At the touch of a button, you can easily change the displayed screen. The idea is to be able to quickly and easily configure the CruzPro MaxRp110 for specific user needs such as fishing, anchoring or any other need.
No external box or other accessories are required. All the readings are taken from the same MaxRp110, just connect the NMEA 0183 outputs of the instruments on board and you can have all the data on a single display. A minimum and maximum alarm can be set for each piece of data detected. When any of the measured data is out of the preset range, the instrument will sound an alarm at 85 dB and the display will flash.
Only 6 of the 16 screens are factory-set with the most popular readings while the others can be easily configured using a PC. The Windows-compatible software allows you to create and transfer each Display Configuration from the PC to the instrument and vice versa. You can also save these pages for later retrieval and editing. The MaxRp110 can be connected to the PC via RS-232 or USB cable using the supplied cable. The software supplied is compatible with the operating systems Win98, Win2K, WinNt, WinXP, Vista and Win7 and can also be downloaded from the official website of CruzPro even without having purchased the tool to test the ease of use.
To facilitate night vision, 5 levels of backlighting can be set. In addition, all settings, calibrations and alarm values are stored in a non-volatile memory.
Technical characteristics
Power supply voltage: 12 - 24 Vdc
Absorption: 0.025 to 0.060 Amps nominal
Operating Temperature: 0 to 50 °C (32 to 122 °F)
Display: 3 digits, two side bars, 5 levels of backlighting with possibility of external power on
Judgments NMEA 0183: Recognises over 5800 judgments
Inputs: 4 NMEA inputs that can receive two sentences each: NMEA #1 input A; NMEA #1 input B; NMEA #2 input A; NMEA #2 input B; NMEA #3 input A; NMEA #3 input B; NMEA #4 input A; NMEA #4 input B;
Alarm: 85 dB integrated, minimum and/or maximum setting for each NMEA input
Filter for updating readings: for 4 NMEA rulings
Dimensions: 110x110 mm
Built-in hole: 55 mm
Prices
120-5620

CruzPro MaxRp110, NMEA C repeater\\SW

500,00

€

Weight:

1

kg; Dimensions:

17

x

18

x

14.5

cm
Prices include VAT
Equipment
Bolts
Bracket for recessed installation
Series
The new Max110 series represents an authentic new concept to display countless data in a single instrument. In fact, it can display 5 different data simultaneously in a single screen, of which 3 in digital digits and 2 on a graduated bar. In addition, the instrument can configure up to 16 different screens (each composed of 5 data) and the user can choose the position and the screen where to display each piece of data.
For each value it is possible to set an alarm for both "high" and "low" values.
The MaxVu110 and MaxRp110 models are equipped with PC software for the Windows operating system. The software allows you to assign the values to be displayed in the 16 screens in a simple and intuitive way. But in any case you have the possibility to assign values also from the instrument itself.