Built-in camera CW-085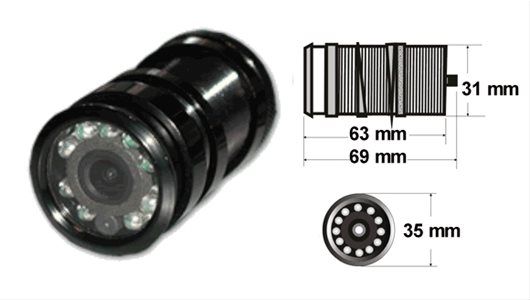 Discontinued
CW-085 colour recessed camera, b/w infrared night vision, 2.8 mm lens, 120° aperture.
Description
Some of the NavStation and Seiwa plotters can be equipped with this watertight colour camera which, thanks to its infrared, can monitor in black and white even in non-illuminated compartments.

The shot is mirrored, so it must be installed in the direction of the stern, otherwise you would have a mirror image (it is therefore not suitable for monitoring areas in the direction of the bow).
The installation is flush mounted, but if you buy separately the cover 061-2712 you can easily install it in bulkhead.

PAL system, 512x582 pixels, 12 Vdc power supply, 400 mA absorption. It comes with an RCA (towards the camera) / Conxall 3 Pin (towards the plotter) adapter.
Prices
061-2710

Waterproof camera for recessed infrared

187,00

€
Prices include VAT
Prerogative
Recessed rear view camera
Colors - 1/3 Sharp CCD
Lens 2.8 mm
Opening 120°
Infrared night vision b/w
Rca output

Accessory Compatible With
Prices include VAT