Solar Panel for Boat and Leisure Snooper Ventura SP280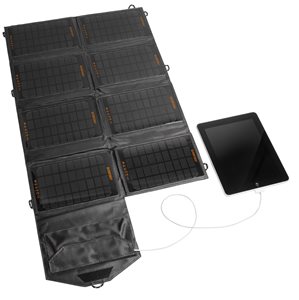 SP280 Solar Panel for charging on the boat or wherever you are portable devices such as smartphones, tablets, cameras, etc..
Description
The Ventura SP280 promptly sends green energy to recharge any device at high speed, making it the perfect solution for all lovers of open spaces and eco-sustainability. You can use it on a boat, in a camper, in a car, in the mountains, at sea, in other words anywhere when you are away from home.
The Ventura SP280 is a solar panel that closes in a convenient case and unfolds to form an extended solar panel with 8 faces on a total area of 98 x 48 cm with a yield of up to 28 watts.
Snooper Ventura uses monocrystalline silicone cells which is a proprietary solution for high-performance solar panels to achieve 21% efficiency, compared to 10% for less expensive polycrystalline solutions.
The Ventura SPV280 can recharge with two different output voltages, one at 5 Vdc and the other at 9-18 Vdc, which can be selected according to the device to be recharged.
In the 9-18 Vdc output, the voltage is proportional to the intensity of the sunlight, so you must be careful not to connect devices that do not have an input stabilizer or that do not support part of this voltage range.
For best results, it is always suggested to place a battery such as the Ventura Powerbanks PB100 between the solar panel and the device to be charged, so that the power supply to the device will be more constant.
Prices
374-0280

Snooper Ventura Solar Pack SPV280 - 28 Watt

188,00

€

GTIN13:

5019896542049

; Weight:

2

kg; Dimensions:

28.2

x

19.5

x

8

cm
Prices include VAT
Prerogative
Solar Panel with charging up to 28 Watt.
11 different adapters to connect almost any device.
Monocrystalline silicone cells with 21% efficiency.
Folded into a comfortable waterproof PVC case.
When folded it only occupies 25 x 25 cm and 6 cm thick and weighs 1450 gr.
It unfolds on 8 sides and measures 98 x 48 cm with a thickness of 5 mm.
Equipment
Two cables and a total of 11 adapters, to allow direct connection to most devices on the market today.