Portable Battery for Recharging Snooper Ventura PB100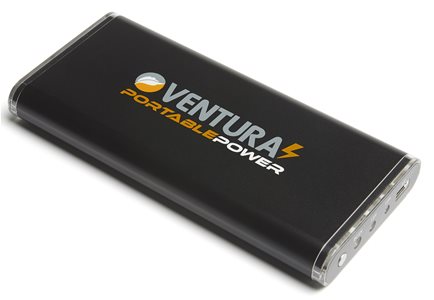 PB100 Portable battery for charging portable devices such as smartphones, tablets, etc., to take with you always in the activities, outdoors.
Description
The Ventura PB100 is a portable battery with a capacity of 21,000 mAh, which is comparable to 3 times the battery capacity of an electric bike. When we are away from home, energy will no longer be a problem, the super capacity of the battery will allow us to recharge all the devices we need: smartphones, tablets, laptops, GPS, VHF, MP3 players, cameras, game consoles or any other accessory.
If we are supporters of sustainable energy, we will also have a Ventura Solar Pack to recharge the PB100 with green energy that we will take with us in all kinds of outdoor activities.
The BP100 weighs only 700 grams and is as small as a diary.
To adapt to almost all devices on the market today, the PB100 comes with a complete set of adapters and has 3 different outputs: 19 Vdc 3A, 12 Vdc 2A and 5 Vdc (USB) 2A.
Prices
374-1100

Snooper Ventura Powerbanks PB100 - 21000 mAh

188,00

€

GTIN13:

5019896542025

; Weight:

0.9

kg; Dimensions:

22.5

x

15.4

x

9

cm
Prices include VAT
Prerogative
21,000 mAh capacity on high quality Lithium battery.
Multiple adapters to connect almost all devices.
It is recharged at 19 Vdc (2A) using the supplied power supply or the Ventura Solar Packs to store green energy.
Dimensions 196 x 91 x 22 mm. Weight 700 gr.
Equipment
Set of adapters, 2 cables for recharging different devices and power supply for recharging from 220 Vac.