PcFF80 CruzPro: Fishfinder and fishfinder for PC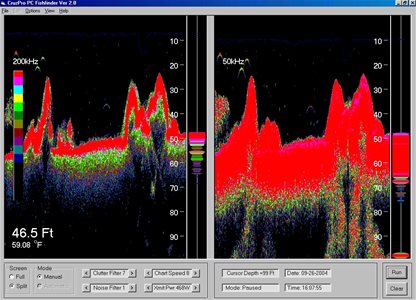 CruzPro PcFF80 Fishfinder and fishfinder in colour, with temperature, PC connection via USB/serial, echo stop recording, noise filters.
Description
The PCFF80 combines state-of-the-art DSP (Digital Signal Processing) technology with the power of a PC to provide modern and accurate colour fishfinder and fishfinder functions.
All the details related to the reading of the bottom are displayed with a high sharpness and with a definition of up to 768 x 1028 pixels, a result difficult to reach by dedicated depth sounder.
The PCFF80 system consists of an interface black box, a software program on CD and a transducer with temperature sensor. The high-speed (115 kbps) interface can be easily connected to both the serial and USB ports. The transducer plug is connected to the interface box, which is powered at 12 VDC.
Suitable for Windows operating systems (WIN98, NT, 2000, XP), full screen display or various split screens, 6 different zoom settings, record/read images displayed on/by a file, depth registers on log files, 6 shifts, 8 adjustable scroll speeds, 8 noise filters, 8 anticlutter filters, 5 types of palettes selectable, 5 background colors selectable, adjustable transmission power, software upgradeable via the Internet.
Prices
090-9099

CruzPro PCFF80 - without transducer.

1.342,00

€

Weight:

2

kg; Dimensions:

24

x

17

x

8

cm

090-9100

CruzPro PCFF80 - Transd.Pass.Plast.+ Temp

1.525,00

€

Weight:

2

kg; Dimensions:

24

x

17

x

18

cm
Prices include VAT
Specifications
| | |
| --- | --- |
| Screen | Depends on the monitor of the PC used |
| Definition | Depends on the monitor of the PC used |
| Construction | IP54 Splash-proof BlackBox |
| Staircases Prof. | Between 0 and 450 m |
| Max Prof. | 300 m |
| Fund Structures | To be analysed on colours |
| A-Scope | Yes. |
| Fish Symbol | No. |
| Fish Track | No. |
| Alarms | Shallow/high seabed, fish and more |
| Speed | If interfaced to a GPS |
| Temperat. | Yes. |
| Power | 320 W RMS |
| Frequency | 50/200 KHz |
| Cone Trasd. | 50 KHz: 45° - 200 KHz: 18° |
| Alimentaz. | 9.5-16 Vdc - 4.7 A Max |
| Dimensions | BlackBox: 100 x 80 x 50 mm |
| More Carats. | Analogue and DSP control, recordings of images displayed, detected, 8 noise filters, 8 scroll speeds |
Equipment
BlackBox
Serial interface cable
USB interface cable
Software CD
Accessories
Prices include VAT