OP60 CruzPro: Engine oil pressure indicator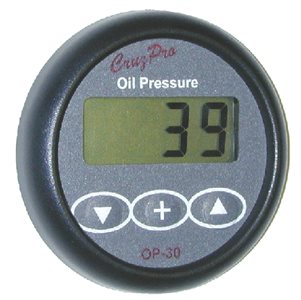 CruzPro OP60 engine oil pressure reader, measured in PSI or BAR, works with any sensor, high and low pressure alarm, NMEA 0183 output.
Description
The OP60 shows the engine oil pressure in PSI or BAR on a digital display. It is already calibrated to work with the sensors of the most popular houses such as VDO, Teleflex, Faria, Stewart-Warner, GM and many others. The type of sensor can be easily selected from the keys on the front panel. High or low pressure alarms can be set over the entire sensor reading range.
When activated, the instrument will emit an 85 dB alarm and the display will flash. All settings, calibrations and alarm values are stored in a non-volatile memory.
The measured data can be sent via the NMEA 0183 standard at 4800 bps to an NMEA repeater such as the CruzPro RP30, RP110, MaxRP110 and MaxVu110. It is also possible to set this port as an external alarm output. The instrument only absorbs 0.018 Amps and you can select 5 levels of backlighting including "OFF".
Technical characteristics
Power supply voltage: 9.5 - 33 Vdc
Power consumption: 0.018 Amps nominal
Display: 3 digits, 5 levels of backlighting with external power on
Data displayed: Oil pressure, 0 to 75, 0 to 80, 0 to 150, 0 to 350, 0 to 400 PSI or BAR equivalent
Input: sensors of the most popular houses such as VDO, Teleflex, Faria, Stewart-Warner, GM
NMEA 0183 serial output at 4800 bps
Alarm: Integrated 85 dB, Settable as high and/or low oil pressure or as output for external alarm
Built-in hole: 55 mm
Prices
120-3180

CruzPro OP60 Oil Pressure

196,00

€

Weight:

0.2

kg; Dimensions:

11.5

x

7.5

x

6.5

cm
Prices include VAT
Equipment
Bolts
Bracket for recessed installation
Series
It is the most complete series in the CruzPro range. It is appreciated for its small size, which allows it to be installed on even the smallest boats.
They all have 5 levels of backlighting. The outer diameter is 6.3 mm, while the recessed hole is 55 mm.