Exposure MOB Carbon technology, safety and aesthetic sense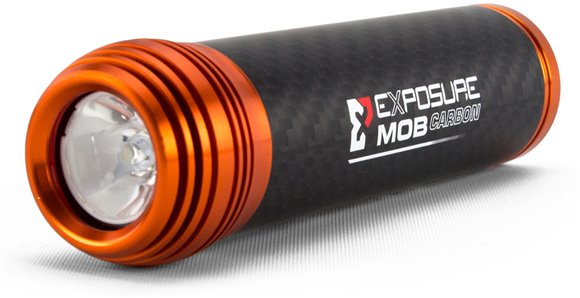 The Exposure MOB Carbon combines the versatility of an ultra-light and ultra-resistant torch with MOB technology for auto-activation of the strobe.
Description
Exposure MOB Carbon is the synthesis of today's manufacturing technologies on a torch of unparalleled value in terms of safety, versatility and aesthetic sense.
Never before has a carbon torch been made in combination with anodised aluminium, which gives it a particularly elegant and unique design.
The MOB Carbon is also a very versatile torch for any type of use in the boat, thanks to its lightness (95 grams), brightness (up to 1000 lumens), water resistance (up to 5 meters deep) and functionality MOB.

In case of man overboard offers 3 different types of intervention:
If the unfortunate person has the MOB Carbon and is in a state of consciousness, he can point the 1000 lumens directly at the boat, otherwise the strobe will automatically signal his presence.
If the man at sea does not have the torch, the crew on board can throw it directly at him, without the need to light it and thus saving very important seconds.
When we are unable to track down the man at sea, the torch helps us with its 1000 lumens, able to promptly capture any reflective details, such as the lifejacket.
The MOB Carbon is easily recharged by USB in about 3 hours and the state of charge is indicated by an LED, which changes color or intermittence, indicating 7 different levels.
Prices
038-0120

Exposure MOB Carbon - MOB Technology 1000 Lumen

153,00

€

GTIN13:

5060369152913

; Weight:

0.15

kg; Dimensions:

14.5

x

10

x

5

cm
Prices include VAT
Prerogative
MOB technology with automatic strobe activation on contact with water with intermittence of one second and 20 hours of autonomy.
Made of carbon in combination with anodized aluminum.
Floating.
Waterproof up to 5 mt. depth.
1000 Lumen
LED courtesy light to track her down in the dark.
Battery charge status indication.
3 lighting levels: 1000, 500 and 100 lumens.
12 hours of autonomy at minimum intensity, 1.5 hours at maximum.
Quickly charge in 4 hours from a USB port.
Comfortable strap.
Lifetime warranty for LEDs, two years for the rest.
Dimensions 130 x 37 mm.
Weight 95 grams.
Equipment
Lanyard, USB cable and convenient neoprene case for storage.