Scout Cruiser: Nautical TV, FM and DAB Antenna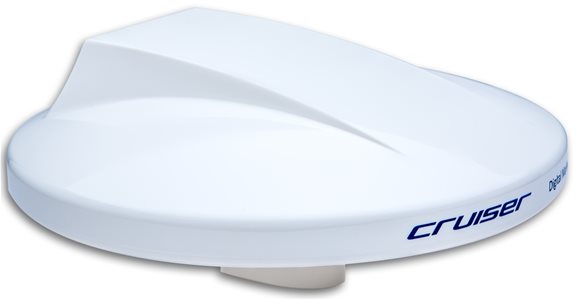 The Scout Cruiser nautical TV antenna has been designed to offer the best TV, FM and DAB reception performance on the boat.
Description
Scout Cruiser is a marine TV antenna carefully designed to receive the best analog and digital terrestrial TV, FM and DAB signals on your boat.
Scout Cruiser is completely omnidirectional and able to receive with the best performance over the entire range of 360 °, so the signal from the broadcasters will arrive with greater continuity both at the dock and in navigation.
The Scout Cruiser includes the Sea-Boost, a low noise amplifier with variable gain control, which can be powered by 12 or 24 V.
The design of the Cruiser is particularly elegant, compact (25 cm in diameter) and with a profile specially designed to withstand the slightest wind resistance.
Technical characteristics
Omnidirectional reception 360°
Frequency 40-860 MHz
Impedance 75 ohms
Channels 2-69
Gain 0-18dB
Noise less than 4 dB
Power supply 12-24 Vdc
Two TV/FM outputs
Absorption 50 mA
F connector
Antenna diameter 25 cm.
Weight 560 gr.
UV-resistant ASA material
Prices
130-3600

Scout Cruiser - TV, FM and DAB antenna, Ø 25 cm

171,00

€

GTIN13:

8052990120215

; Weight:

1

kg; Dimensions:

26

x

26

x

16

cm
Prices include VAT