Scout is an Italian company that produces antennas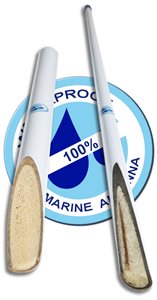 Scout is an Italian company from Soliera (MO), leader in the production of marine antennas for boat communications.
Description
SCOUT telecommunications was founded in 1982 with the aim of producing nautical antennas for the professional segment. Subsequently, thanks to the successes achieved and the consolidation of the brand, SCOUT progresses towards an expansion of the range of products, also addressed to other sectors. Today SCOUT produces and sells two-way antennas for professional use dedicated to the nautical sector (pleasure - fishing - military), vehicles (taxis - ambulances - police - civil protection) and security systems (radio alarms - surveillance - remote controls). All the production is carried out in Italy, at the headquarters of Soliera (in the province of Modena), with artisan care of the quality of the finished product and of every single process of realization.
In 2012 the tradition is always renewed in the sign of made in Italy, and SCOUT offers a new range of products with 100% waterproof technology, antennas totally waterproofed thanks to the use of a special closed-cell resin that is injected under pressure into the conical stylus of the antenna. It forms a waterproof layer that, in addition to ensuring total waterproofing, gives the antenna a 30% higher resistance than any other marine antenna on the market.
This new technology marks an important step forward in the maritime communication system, allowing yachtsmen to acquire greater security in communications with the mainland even in the most adverse weather conditions and the security that the antenna will not be damaged by salt, ice and water.