Commander 7x50 Professional Marine Binoculars with Open-Bridge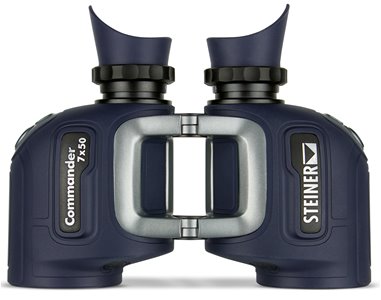 STEINER revamps the Commander series starting with the structure, which features the Open-Bridge System for improved ergonomics.
Description
The Commander 7x50 is a professional binocular for marine use with a history of more than 40 years that has made it a reference item among commanders around the world. Today (April 2023), the Commander gets a makeover by showcasing a new bridge structure (Open Bridge System) that leaves some free space for the hand and fingers to find a firmer and more articulate grip, even in one-handed grip modes.
The Commander uses STEINER 's best optical technology to achieve maximum resolution and high-contrast images. The lenses are treated with Diamond Marine Coating and Nano-Protection technology that can reduce glare, increase sharpness and enhance brightness for use even in minimal lighting conditions.
The Commander uses STEINER 's Auto-Focus technology to show sharp, in-focus images for objects beyond a distance of 20 meters, removing the need to constantly adjust focus.
The longevity of STEINER binoculars is well known, and in the case of the Commander, where the construction has been taken care of in the most minute detail, this prerogative is accentuated, and the 30-year warranty testifies to the confidence that the STEINER masters place in this product.
The Commander uses pressure-injected nitrogen inside to ensure that the optics remain intact for decades and avoid tedious condensation.
Pricing
050-4210

STEINER Commander 7x50 (New)

1.588,00

€
Prices incl. VAT
Prerogatives
Ultra-durable polycarbonate construction with with ultra-durable NBR rubber for the ultimate in light weight and toughness to withstand up to 11G impact.
Steiner Nano-Protection®: molecular water repellent, able to repel water and dust from the lens.
Auto Focus: for always in focus images from 20 meters to infinity.
N2 injection™: sealed with dry nitrogen injected at a pressure of 14 psi with 2-way valve technology. To counter fogging in any condition.
Floating prism system with flexible silicone for shock absorption.
Chemical coatings are applied in all air-glass passages to ensure the optimization of light passage, so that our eye can perceive higher contrast and brighter details even in low light conditions.
Manufacturing process consisting of more than 460 steps that attest to its rigorous quality.
Padded floating strap: allows the binoculars to float and the bright yellow color allows for easy tracking.
ClicLoc® strap (non-floating) allows the binoculars to be instantly attached or detached.
ErgoFlex eye grommets.
Waterproof to a depth of 10 meters.
30-year warranty.
Specifications
Weight: 1090 g
Width: 208 mm.
Height: 160 mm.
Depth: 88 mm.
Output pupil: 7.1 mm
Brightness: 51.02
Twilight factor: 18.71.
Field of view at 1000 m: 140 m
Operating temperature: ?40 °C to +80 °C
Features
Hard case.
3M-ClicLoc quick-connect padded floating carrying strap.
Quick-attach neoprene ClicLoc carrying strap.
Rain cover and lens cap.