Commander 7x50c Professional Binoculars with Compass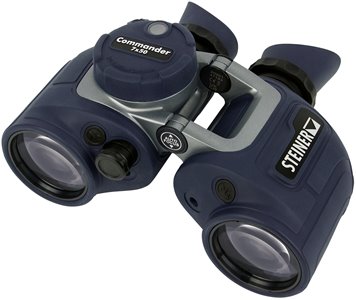 From STEINER the new Commander 7x50c with compass, built with the new Open-Bridge system for easier handling.
Description
The Commander is a symbol among sailors around the world and is synonymous with reliability and perfection. Today (April 2023) the Commander 7x50c changes its face, but not the prerogatives that have made it such a virtuoso object.
The new Commander 7x50c, in addition to a set of minor improvements, denotes the new "Open-Bridge System" structure, where the two optical groups are joined by a more ergonomic bridge structure, which allows the fingers to find a more articulated grip and makes it possible to use the binoculars with one hand.
The compass structure has been completely renovated, becoming even more accurate and better stabilized. Thus it will be easier to calculate distances even in adverse weather situations and with unusual accuracy, thanks to the precision graphics of the reticle. The compass is equipped with a CR1225 battery in order to provide reticle illumination for night use.
Personal dioptric focusing is achieved with precision and is facilitated by special rubberized knobs. Once this adjustment is achieved, the Auto-Focus system frees us from the need to constantly adjust the focal length as the distance to the object we wish to frame changes; in fact, all objects from 20 meters will always be in focus.
For the new Commander 7x50c, the various construction techniques have been further refined, such as STEINER Nano-Protection Diamond Marine Coating, which makes it possible to abundantly reduce tedious reflections and maximize clarity, as well as allowing more light to penetrate the optics, thus making the binoculars suitable for use even in poor lighting conditions.
The nitrogen pressurization technique with two-way technology ensures in the complete prevention of fogging and allows optical qualities to be maintained for decades. This prerogative united with the construction techniques allows the binoculars to remain waterproof to a depth of 10 meters.
As with its predecessor, the warranty is 30 years.
Prices
050-4220

STEINER Commander 7x50 C (New)

1.691,00

€
Prices VAT Included
Prerogatives
Integrated precisioncompass complete with reticle for calculating distances. With 40 mm diameter and particularly efficient damping systems, it makes itself especially accurate, fast and reliable.
Ultra-durable polycarbonate construction with with extremely long-lasting NBR rubber for the ultimate in light weight and strength to withstand an impact of up to 11G.
Steiner Nano-Protection®: molecular water repellent, able to repel water and dust from the lens.
Auto Focus: for always in focus images from 20 meters to infinity.
N2 injection™: sealed with dry nitrogen injected at a pressure of 14 psi with 2-way valve technology. To counter fogging in all conditions.
Floating prism system with flexible silicone for shock absorption.
Chemical coatings are applied in all air-glass passages to ensure the optimization of light passage, so that our eye can perceive higher contrast and brighter details even in low light conditions.
Manufacturing process consisting of more than 460 steps that attest to its rigorous quality.
Padded floating strap: allows the binoculars to float and the bright yellow color allows for easy tracking.
ClicLoc® strap (non-floating) allows the binoculars to be instantly attached or detached.
ErgoFlex eye grommets.
Waterproof to a depth of 10 meters.
30-year warranty.
Specifications
Weight: 1090 g
Width: 208 mm.
Height: 160 mm.
Depth: 88 mm.
Output pupil: 7.1 mm
Brightness: 51.02
Twilight factor: 18.71.
Field of view at 1000 m: 140 m
Operating temperature: ?40 °C to +80 °C
Features
Hard case.
3M-ClicLoc quick-connect padded floating carrying strap.
Quick-attach neoprene ClicLoc carrying strap.
Rain cover and lens cap.