Kestrel 4500 Bluetooth Wireless Portable Weather Station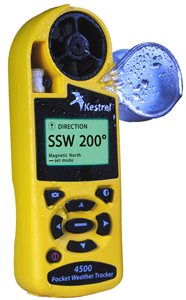 Discontinued
Kestrel 4500 Bluetooth, portable weather station for Bluetooth wireless connection to the PC.
Description
Kestrel weather detectors with integrated Bluetooth technology offer a definitive solution for portability and accuracy in environmental data collection. A complete portable weather station that measures and records many critical environmental conditions such as wind speed, wind direction, temperature, humidity, barometric pressure, altitude, density altitude, wet bulb temperature, dew point and others.
Today, both real-time and recorded data can be transferred wirelessly to a computer or PDA, making the Kestrel 4000 series the perfect tool for any use that requires reliable and ready weather data.
The Kestrel 4500 Bluetooth, like the 4500 model, also measures the wind direction. In fact, this anemometer in addition to presenting the prerogatives of the model 4000, incorporates a digital compass through which it can process the direction of the wind, the crosswind, the headwind and the wind in favor.
Go above and beyond the limits with Bluetooth Kestrel!
Optimize your work and reduce equipment - wireless data transmission eliminates the need for separate cables and interfaces
Each Kestrel Bluetooth unit includes a communication software designed to quickly and easily configure the periodicity of data transmission, download recorded data, manage graphs and transfer data to other applications.
Data transmission adjustments allow you to maximize the communication power of your Kestrel by up to 10 meters or reduce it for closer and equally secure operations
Individual ID allows you to connect to the Kestrel you want even if there are several units in the same area
Permanent encoding of a single 4-character PIN provides additional security both during connection and data transmission
Prices
180-4520

Kestrel 4500 Bluetooth - Yellow

561,00

€

GTIN13:

0730650045655

; Weight:

0.2

kg; Dimensions:

11.5

x

5.5

x

13

cm
Prices include VAT
Equipment
Transport strap
Protective cover for pallets
Fabric case
Communication software
Accessories
Prices include VAT
Series
Kestrel Line has been carefully designed with the highest quality standards to ensure maximum precision and durability.
All models are able to collect wind data with extreme reliability, while on the more advanced models there are countless weather features that are useful not only for owners of sailing boats, but also for those who want to go out to sea in complete safety, monitoring the weather conditions.
The wind measurement is taken by means of a precision fan with sapphire carriers that allows you to read the data with high accuracy (+/- 3%) and start measuring at a very low wind level (0.3 Ms). The fan is also made of highly shock-resistant material and can be easily replaced.
Common Prerogatives
100% Made in the USA
5 Years Warranty
Certified and Guaranteed Calibration on each unit
All Waterproof (IP67)
Float
Tested at the fall (2 mt)
Sapphire fan with bearing elements
Patented technologies to guarantee precision