Kestrel 3000 weather meter with humidity sensor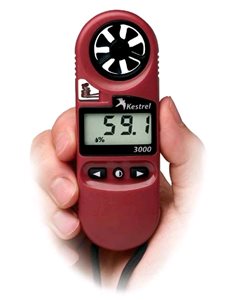 Kestrel 3000 speed; maximum/average wind, temperature, apparent temperature, cooling index, humidity; relative and dew point.
Description
It reads the current, maximum and average wind speed, temperature, cooling index, relative humidity, apparent temperature, dew point, water and snow temperatures.
Dimensions 122 x 42 x 20 mm. Autonomy 300 hours. Construction IP 67 (submersible up to one meter). Shock resistant and tested by falling from 2 meters. It has the ability to store data inside it. Equipped with a large screen for easy and fast reading of data. Innovative and timely design in the detection of sudden temperature changes. Interchangeable fan. External rapid response thermometer. Able to detect wind data even at low intensity. Reliable, portable and easy to use.
Prices
180-3000

Kestrel 3000 - Red

248,00

€

GTIN13:

0730650030002

; Weight:

0.2

kg; Dimensions:

11.5

x

5.5

x

13

cm
Prices include VAT
Prerogative
Maximum, average and current wind speed
Temperature and Apparent Temperature
Floating and waterproof
5 year warranty
Certified calibration
Sapphire fan with bearing elements
Equipment
CR2032 lithium battery
Plastic container
Transport strap.
Accessories
Prices include VAT
Series
Kestrel Line has been carefully designed with the highest quality standards to ensure maximum precision and durability.
All models are able to collect wind data with extreme reliability, while on the more advanced models there are countless weather features that are useful not only for owners of sailing boats, but also for those who want to go out to sea in complete safety, monitoring the weather conditions.
The wind measurement is taken by means of a precision fan with sapphire carriers that allows you to read the data with high accuracy (+/- 3%) and start measuring at a very low wind level (0.3 Ms). The fan is also made of highly shock-resistant material and can be easily replaced.
Common Prerogatives
100% Made in the USA
5 Years Warranty
Certified and Guaranteed Calibration on each unit
All Waterproof (IP67)
Float
Tested at the fall (2 mt)
Sapphire fan with bearing elements
Patented technologies to guarantee precision