AIS autonomous transponder Vesper Marine Watchmate 850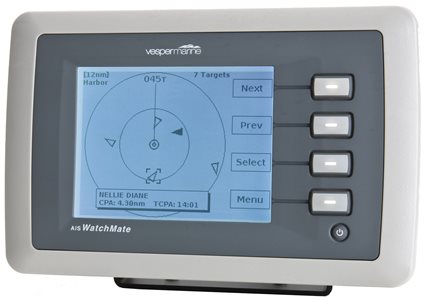 The Vesper WatchMate 850 is an autonomous AIS equipped with advanced features; to alarm the boat of any eventuality.
Description
The Vesper Marine WatchMate 850 has been specifically designed to achieve the best AIS functionality and the lowest absorption. These prerogatives have been recognized to WatchMate 850, making it win two international awards for innovation.
The WatchMate 850 is a class "B" transponder with integrated GPS that displays AIS information from all nearby vessels that are also equipped with transponders. It can be interfaced with other units to transmit all AIS data, but in any case the WatchMate 850 has been completely designed to operate autonomously without the need to be connected to other devices.
An alarm sounds if the unit senses a potential danger to navigation. For example, the alarm is triggered, if there is a boat, even several miles away, but that is sailing right in our direction. In this case, the WatchMate 850 will highlight the CPA and how much time is left for the CPA (TCPA).
The WatchMate 850 is unique in its kind in its ability to customize alarms and set filters to contain the possibility of false alarms. Boats and alarms are displayed in order of priority to increase safety, especially in traffic areas.
Prices
030-3200

Vesper WatchMate 850 - AIS Transponder B

1.098,00

€

GTIN13:

0609722874199

; Weight:

2

kg; Dimensions:

26

x

16

x

10

cm
Prices include VAT
Prerogative
Low power consumption
Very fast installation
Advanced AIS functionality with numerous alarms and filters
High performance class "B" internal AIS module with 2 parallel channels
Internal GPS with 50 parallel channels
AIS transmission can be set to Silent Mode (the device disables the transmission of its AIS information)
IPx7 waterproof construction
5" high contrast monochrome display 320x240 pixels
Dimensions 208 x 135 x 76 mm
Equipment
Protective cover
NMEA cable
USB cable
Screws for installation
Accessories
Prices include VAT