CruzPro VAF110 AC Current Analyzer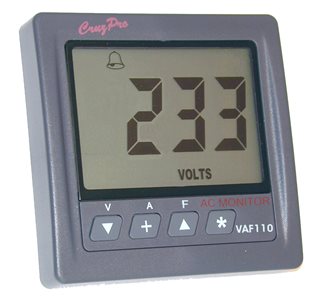 CruzPro VAF110 alternating current analyzer, voltage and current at the dock or from the generator, NMEA 0183 output, high and low voltage alarm.
Description
The VAF110 is an alternating current analyzer for reading quayside or generator voltage and current data such as Volts (90 to 300 VRMS), Amps (0-150 A), frequency (30-110 Hz) and kW (0-45 kW). It is possible to select an alarm for both high and low voltage and for high and low frequency. When the alarm is activated the instrument will sound an alarm at 85 dB and the display will flash.
It is possible to use the rear output to automatically switch off the generator or to send the NMEA 0183 data at 4800 bps voltage, absorption, frequency and power consumption. 5 levels of backlight can be selected and all settings, calibrations and alarm values are stored in a non-volatile memory. It comes with both transformers for reading current SH450 and voltage.
All calibrations are performed from the house, but the user can modify them as needed. Using the front panel it is also possible to change the values for the voltage, current and frequency alarms. At the touch of a button, you can display the various readings on the screen.
Technical characteristics
Power supply voltage: 9.5 - 33 Vdc
Absorption: 0.035 Amps nominal
Display: 3 digits, 5 levels of backlighting with external backlighting on
Data displayed: Volt, Ampere, Frequency, kW
Reading range: 90 to 300 Vac, 0 to +150 Ampere, 40 to 70 Hz and 0.0 to 45.0 kW
Output: NMEA 0183 serial at 4800 bps ($IIXDR,I,aaaa,A,VAF30,*CS - AC Ampere $IIXDR,F,bb.b,H,VAF30,*CS - AC Frequency $IIXDR,G,cc.c,,VAF30,*CS - AC Killowatt $IIXDR,U,ddd,V,VAF30,*CS - AC Volt)
Alarm: 85 dB integrated, minimum and/or maximum setting for voltage, frequency and power
Outputs for automatic generator shutdown or for NMEA 0183 output for AC Volts, AC Amps, Frequency and kW
Dimensions: 110x110 mm
Built-in hole: 55 mm
Prices
120-5410

CruzPro VAF110 Current Analyzer Altern.

622,00

€

Weight:

1

kg; Dimensions:

14.5

x

12

x

24

cm
Prices include VAT
Equipment
Bolts
450 Ampere SH-450 Shunt
Bracket for recessed installation
Accessories
Prices include VAT