Steiner Commander Thermal - Nautical Thermal Visor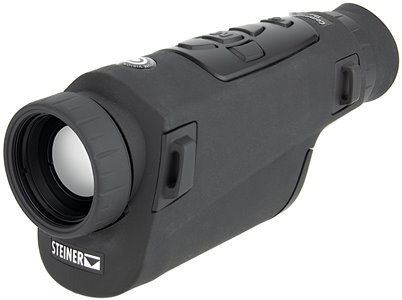 Professional Steiner Commander Thermal viewer, with Quantum Vision technology for amazing clarity of images.
Description
The Steiner Commander Thermal is a professional thermal viewer at the state of the art of this technology.
It takes advantage of Steiner's own Quantum Vision(TM) technology, where a set of complex algorithms have made it possible to orchestrate the data coming from the hardware components, in an optimal and completely innovative way.
With Quantum Vision, we can in fact have much more faithful images with a level of discernment of detail that was unthinkable before the advent of this technology.
Especially rich is the STEINER Connect app, available for iOS and Android. So what you've captured with the Commander Thermal, you can easily share, view on your TV or stream wherever you want.
The construction is truly rugged, as is usual to expect from a Steiner product, with an outer casing made of the solid Makrolon and an operating temperature of -10C° to +50C° that is a true record for such sensitive technology.
Prices
050-4310

STEINER Commander Thermal

3.415,00

€
Prices incl. VAT
Prerogatives
Sensor: 640?512 @ 12µm
Optical magnification: 2.04x
Digital magnification: up to 8x
Lens: 35mm F1.0
Field of view at 100 m: 5 x 9.4 m
Display: OLED 1280?960
Frame frequency: 50Hz
Maximum screen size: 22 inches
Palettes: Warm White, Warm Black, Iron Red, Fire, Warm Red, Amber
Calibration: Auto/Scene/Optimizer
Operating Temperature: -10°C to +50°C
Autonomy: 8.5 hours.
Battery: 2 lithium-ion 18650 type batteries not included.
Warranty: 2 years
Dimensions: 210 x 80 x 68 mm
Weight: 514 g.
Features
Carrying case
Power supply with USB-C 5V 2A output
Shoulder strap
Lens cover