MR F77 GPS E Cobra Marine: VHF/DSC fixed with integrated GPS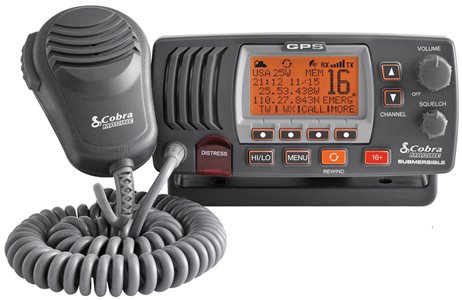 Cobra Marine MR F77 GPS AND VHF/DSC fixed with integrated GPS to ensure that geographical coordinates are included in DSC calls.
Description
The Cobra Marine MR F77 GPS E is a fixed VHF specially designed to offer the best security in DSC calls, thanks to an integrated GPS that avoids the often problematic of sending a DSC message without GPS coordinates.
In fact, at the international level, coastguards complain of a high reception of DSC messages without the string related to the geographical position. This is due to the simple lack of interface between the on-board GPS and the VHF, or because of an improper installation, or because the GPS is damaged. The solution designed by Cobra Marine, integrating GPS into the VHF, not only solves all these problems, but also simplifies the installation of the VHF.
The Radio Check function allows you to check the correct functioning of the on-board battery, the transmission power and the antenna. While the Rewind Say Again function allows you to listen again to a message that we have not been able to hear properly. It also includes the function of voice amplifier so you can transmit messages to the entire crew in amplified mode.
Particular attention has been given to simplifying operational procedures. The display is very large and entry into the menus is facilitated by soft keys. In addition, the channel caption provides a short name for each channel, so that you can better understand the operating mode of the chosen channel.
The NMEA IN can be used for a secondary GPS or to act as an alarm signaler. While the NMEA OUT allows to signal on a plotter the boats involved in a DSC call.
The construction has been carefully designed on a sturdy die-cast aluminium frame and the unit is submersible according to the IPx7 standard. The dimensions of the recessed and the bracket have not changed compared to previous models, so it will be particularly immediate to replace the old VHF.
It is available in black (model MR F77B GPS E) and white (model MR F77W GPS E).
Prices
020-2910

Cobra Marine MR F77B GPS E, VHF/DSC, Black

226,00

€

GTIN13:

0028377201905

; Weight:

2

kg; Dimensions:

32

x

25

x

8.5

cm

020-2920

Cobra Marine MR F77W GPS E, VHF/DSC, White

226,00

€

GTIN13:

0028377201844

; Weight:

2

kg; Dimensions:

32

x

25

x

8.5

cm
Prices include VAT
Prerogative
Integrated GPS
Channel caption
Large, high visibility display
Softkey operation
Alarm input
NMEA 0183 Input and Output
Flush-mounted installation kit included
Ø Hole for flush-mounting: Length 136 mm, Height 46 mm, Depth 125 mm
Signal reception bar
Equipment
Flush-mounted installation kit.
Kit for installation on bracket.
Microphone.