GX600D GME: VHF DSC ideal for both sailboats and motorboats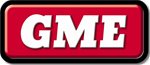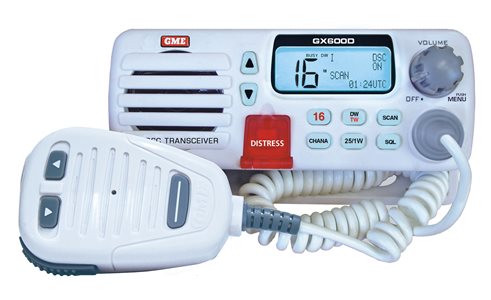 Fixed VHF for Marine use with DSC, for both sailboat and motorboat, compact size, only 77 mm deep;.
Description
The GME GX600D VHF is designed to the highest standards to ensure the best performance in onboard VHF communications and to be installed even in the smallest consoles.
In fact, the GX600D has a depth of only 77 mm, a real record for a marine VHF for fixed use, a prerogative that makes it suitable for installation on even the smallest boats or where you prefer a bracket installation, but do not want to commit precious space.
The GME GX600D VHF integrates a wide range of DSC functions even beyond those provided for class "D" and is waterproof with IPx7 degree of protection.
Prices
020-6110

GME VHF/DSC GX600DW, White

312,00

€

GTIN13:

9319493158480

; Weight

:

1.3

kg; Dimensions:

25.5

x

7.5

x

15.8

cm

020-6120

GME VHF/DSC GX600DB, Black

312,00

€

GTIN13:

9319493158961

; Weight:

1.3

kg; Dimensions:

25.5

x

7.5

x

15.8

cm
Prices include VAT
Specifications
| | |
| --- | --- |
| Type of product | Fixed |
| Construction | IP67 (Waterproof for 30 minutes at a depth of one meter) |
| Channels | All International Channels |
| Emerg. | Key Reserved for Channel 16 |
| Scan | On All Channels or Stored Channels |
| Dual Watch | Dual & Tri-Watch |
| Rx indicator | Absent |
| Frequencies | VHF marine frequencies |
| Power Tx | Max 25 W - Min 1 W |
| Audio Power | 2 W and 4W 4 Ohm on external speaker |
| Sensitivity | 0.30 µV 12dB Sinad |
| Reiez.Interm. | > 73 dB |
| Alimentaz | 10.5 - 15.6 Vdc |
| Autonomy | (depends on on-board batteries) |
| Absorption | Tx: |
| Dimensions | 65h x 164 x 77 mm |
| Weight (kg) | 585 gr |
| More Carats. | DSC Class D with Position Polling for automatic position changeover |
Equipment
Microphone
Bracket and knobs
Power cable
Protective cover
Clips and screws for fixing Mike
Accessories
Prices include VAT