Scout KS-21: VHF Marina Antenna 90 cm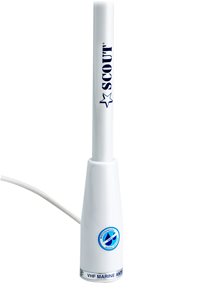 VHF marine Scout KS-21 antenna with stylus, although small in size, has a gain of 3 dB and an excellent calibration on marine frequencies.
Description
The Scout KS-21 is a marine VHF antenna designed specifically for small boats or inflatable boats.
It is designed with a 90 cm fiber stylus and its perfect calibration allows a gain similar to the 150 cm antennas.
Technical characteristics
Frequency 156-162 MHz
Impedance 50 Ohm
Configuration 1/2 ?
V.S.W.R. <1.5:1
Applicable power 50 watts
Vertical Polarization
Gain 3 dB
3 MHz bandwidth
Cable 5 mt. RG 58
DC ground protection
Nylon fitting material
Stylus material Fiberglass
Stylus height 90 cm
Mounting 1 x 14 threads
Weight 250gr

Prices
130-0910

Scout KS-21 VHF 3dB 90 cm - Dashboard - Fiber

44,00

€

GTIN13:

8052990120246

; Weight:

0.5

kg; Dimensions:

98

x

7

x

4

cm
Prices include VAT
Prerogative
3 dB gain on only 90 cm of length.
Ultra-white gloss coating with UV filter
100% Waterproof
5 year warranty
Accessories
Prices include VAT
Series
The Scout series of antennas is entirely designed and built in Italy, according to the best principles of quality.
All materials used in the production are selected among the best on the market, to ensure reliable antennas in all conditions of use and for all types of use. Cables, connectors, plastics, metals and all other components are chosen to obtain antennas of the highest quality, characterized by top-of-the-range reception and transmission power, exceptional shielding, high resistance to shocks and atmospheric agents, and great attention to resonance.
For example, the 90 cm series is able to offer a real gain that is often higher than the 150 cm series of competing antennas.
Each antenna is subjected to a quality control, to ensure the quality standard SCOUT. During the engineering phase, they have been calibrated with particular attention and zeal to better guarantee the best performance.
An essential component of the Made in Italy product is the care of the design.
SCOUT antennas are all made with particular attention to line and stylistic details: the moulds of the components are designed following a logic of aesthetics and functionality of the product. SCOUT antennas are also characterized by a special paint with UV filter, to allow the antenna to shine for a long time, avoiding the effect of deterioration of the coloring. Reliable antennas to use, but also beautiful to see.

We suggest not to save money when buying a VHF antenna, because even the best VHF will not work properly when the antenna is not built to all the necessary standards.