F300BT Cobra Marine: keeping your mobile phone safe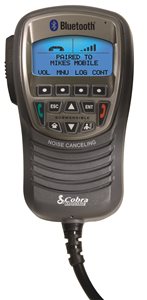 F300BT Cobra Marine allows you to drive the functionality of your mobile phone via Bluetooth connection, to keep your phone safe.
Description
Today all the instruments we have on the boat are carefully designed for specific use in the marine environment, with the sole exception of our precious mobile phone that we introduce in this environment against him.
For this reason Cobra Marine® has created the F300 BT EU model, which allows you to store your mobile phone in a safe place to be controlled by this completely waterproof microphone and designed specifically to improve the quality of communications by filtering out background noise normally present on a boat.
The connection with the mobile phone is made easily via Bluetooth wireless technology and on the microphone there are all the calling features to which we are accustomed with our mobile phone. It is also possible to connect the microphone to the stereo system of the boat, in order to listen to our interlocutor with the power of an amplified system.
Installation on board the microphone is quick and easy and rarely takes more than 30 minutes.
The conversation takes place in half-duplex mode, i.e. in the same mode in which we are used to with the VHF. In practice, to transmit your voice you will have to press the PTT key (key for transmission) and to listen to the other party you will have to release it.
However, the VOX function is available, which allows you to speak automatically (without the need to press the PTT button), but it is not recommended to use it when there are other environmental noises such as the engine access of the boat.
The F300BT can also be used to connect your mobile phone to the boat's stereo, so you can easily listen to any song you have on your mobile phone on the boat.
In fact, once connected to the boat's stereo, it will be easy to listen to any music that is launched from the mobile phone.
Caution: pairing problems have been encountered with Samsung S2 and S4 models, so the F300BT may not work with these smartphones.
Prices
020-3300

Cobra Marine F300 BT EU Bluetooth Microphone

62,00

€

GTIN13:

0028377201295

; Weight:

0.9

kg; Dimensions:

25.5

x

21

x

7

cm
Prices include VAT
Equipment
Microphone support
Bulkhead power socket with power cable and USB connector for software updates