Exposure X2 LED torch with ONV function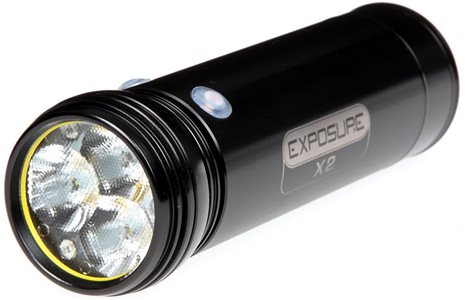 Discontinued
Exposure X2 is an LED torch designed specifically to work best on a boat without overwhelming the night adaptation of sight.
Description
The Exposure X2 is a floating torch designed for all night-time needs on board a boat.
The X2 integrates in a single body two different light sources, one with white LEDs and the other emitted by a special red LED with ONV technology.
The ONV (Optimised Night Vision) technology has been specially developed to prevent deterioration of our natural adaptation of vision to night conditions. In this way we can use the X2 without the danger of disturbing our own adaptation or that of others.
It emits a maximum beam of 573 lumens and is adjustable to 3 intensities. While the ONV bulb emits a light suitably reduced to 120 lumens. It also provides for strobe and SOS functionality.
All the functions are inserted by means of two keys, each with its own LED, which helps in tracing the lamp in the dark and to highlight the state of charge of the battery.
The Exposure X2 torch is entirely designed and manufactured in the UK to the highest quality standards, is completely floating and weighs only 118 grams. It can be recharged from any common USB socket, or from the supplied 220 Vac power supply.
Prices
038-0200

Exposure X2 - Portable Lighthouse 573 Lumen

264,00

€

GTIN13:

5060276417259

; Weight:

0.5

kg; Dimensions:

20

x

29

x

10.5

cm
Prices include VAT
Prerogative
ONV technology with red light to avoid being dazzled at night.
3 levels of white light, strobe light and SOS brightness.
Luminous flux 573 Lumen.
Floating and particularly light.
LEDs that warn about the charge status and help in tracing the flashlight in the dark.
Easily recharged from any USB socket and magnetic connection to the flashlight.
60 hours of autonomy in ONV mode.
IPx8 construction and waterproof to 5 meters.
Designed and built entirely in the UK.
Diameter 40 mm, length 128 mm, weight 118 gr.
Equipment
2 sheaths with transparent strap for the passage of light, one of which with slot for the passage of the USB cable or of a lifejacket line. The two sheaths are provided with a double-sided adhesive for application on flat surfaces.
A white lens for use with diffused light.
220 power supply with USB output.
USB cable for charging with magnetic terminals.
Highly reflective Dyneema® stitch.
Practical packaging for storing other objects inside.
Accessories
Prices include VAT