AIS Transponder Class A OceanSat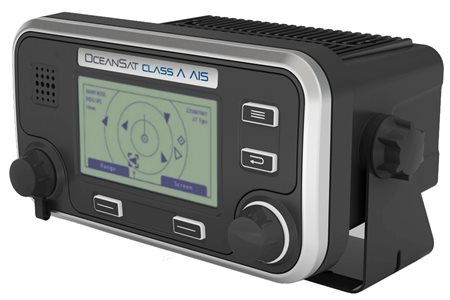 Discontinued
OceanSat Class A AIS transponder for professional ships and boats, mandatory for fishing boats and GMDSS stations.
Description
AIS Class A transponder produced by the Dutch OceanSat and designed for professional boats. It is robust, particularly reliable in its functionality and simple in its operation.
The display provides a basic view of the position of the AIS targets around the ship and does not replace the use of navigation systems (ECDIS plotters) that can better highlight these details.
The transmitter supports both AIS Class A maritime mode (high seas / SOLAS) and Inland AIS terrestrial mode. Through the menu you can choose one of the two modes and this operation must be performed at the time of installation.
It is certified according to IEC standards for offshore navigation, and is Wheelmark, USCG and FCC approved.
Technical characteristics
Dimensions: 195 x 105 x 157 mm
Weight: 1500 gr.
Display: 240 x 128 pixels b/w
Transmitters: 1
Receivers:3
Power Tx: 12.5W
Sensitivity Rx:
Distance from the compass: 300 mm
Power supply: 12/24 Vdc - <12W
Absorption at 12 Vdc: 0.9 A typical - 4.0 A Max
Absorption at 24 Vdc: 0.9 A typical - 2.0 A Max
AIS Class A mandatory
The AIS class ?A? transponder is mandatory on ships with gross tonnage greater than 300t.
In addition, Legislative Decree no. 18 of 16/02/2011 establishes the obligation on fishing vessels with an overall length greater than or equal to 15 meters, with the following implementation schedule:
From 24 to 45 meters: from 31/05/2012
From 18 to 24 meters: from 31/05/2013
From 15 to 18 meters: from 31/05/2014
Newly built vessels: before launching
(Length "from" means "above or equal to", length "a" means "below")
Attention: this is only a schematic guide and it is necessary to refer to DLG n.18 of 16/02/2011.
Prices
030-2200

OceanSat Class A AIS

2.379,00

€

Weight:

2

kg; Dimensions:

28

x

20.5

x

8

cm
Prices include VAT
Equipment
Transceiver
Mounting panel
Stakeout mask
Junction Box
Date cable length 1Mt
GPS antenna with 10 Mt cable
Power cable length 2 Mt
Screws
Accessories
Prices include VAT