Snooper AVN S7000 Truckmate EU: Navigator, CD/DVD, Radio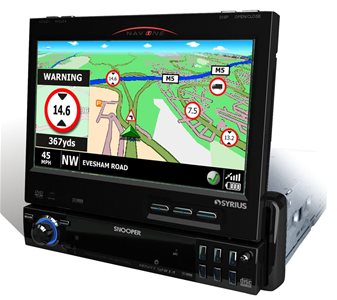 Discontinued
Unit; TruckMate AVN S7000 with removable, motorised 7-inch LCD touch screen, DVD/CD player with connectivity; iPod and MP3, AM/FM radio.
Description
The TruckMate AVN S7000 headunit incorporates a wealth of features, including: a removable, motorised 7-inch LCD touch screen, DVD/CD player with iPod and MP3 connectivity, AM/FM radio receiver and Bluetooth hands-free technology. It is also possible to add a camera for reversing/parking manoeuvres.
Updatable speed camera alerts
. The TruckMate AVN S7000 is also the first upgradable single din headunit. The TruckMate SD card can be removed from the device and updated via a PC. To ensure that you have the latest speed camera information at your fingertips, it is essential that you periodically download the latest version of the Snooper AURA speed camera database.

TruckMate always has the right answer
. This unique software allows you to create a route based on the specific characteristics of the vehicle. It is sufficient to enter the size and weight of the vehicle and the type of load, if any. The Snooper TruckMate software will develop a safe and truck-friendly route. Routes will be calculated taking into account roads with adequate width and height and excluding roads with low bridges, weight limits for vehicles and many other risks.
Think of the environment
! As well as driving you to your destination safely and effectively, TruckMate will also choose the most economical route for you. If you have to choose between a route with a considerable gradient and one with straighter and flatter roads, TruckMate will select the second alternative. The lower the fuel consumption, the greater the economic efficiency.
Multi-route
technology Snooper satellite navigation systems have always been distinguished by their elegant design. But they don't just look good, they also offer the same level of performance. Take, for example, our new and exclusive multi-route planning software. This product allows you to calculate a single route that includes up to 16 different destinations by specifying only the postal codes. You don't have to stop and look for every single address. The route of the entire day will be calculated and stored in seconds.
TruckMate
is not only designed for navigation of bulky vehicles. The software allows you to easily switch between car and truck navigation settings. Once the car mode is selected, the routes will be calculated in a normal way, using roads suitable for cars. TruckMate is a portable device and can be easily moved from one vehicle to another. Two fantastic satellite navigation systems in one!
More than 2 million POIs across Europe
Specific points of interest for trucks (including parking areas and truck service stations only), advanced information on standard service stations: possible truck service, acceptance of hauliers' payment cards and location of available diesel filling pumps. In addition, the complete list of POIs provides information on many hotels, restaurants, petrol stations, speed cameras, golf courses, ATMs, airports, train stations, shops and much more. Go directly to your destination only by pressing a button!
Technical specifications:
ISO/1 DIN format
Compatible with DVD/DVDR/DVDRW/ VCD/CD CDR/CDRW/MP3/MP4
Touchscreen control panel with 7-inch wide LCD/TFT display
Graphical user interface
High brightness: 400 cd/m2
Resolution: 1440 x 234
Controls for adjusting color, contrast, brightness and hue
Fully motorized viewing angle adjustment
Last angle storage for the panel
Displaying the front panel when the monitor is closed
Removable curtain front panel for invisible opening for DVD insertion
Compact DVD insertion mechanism
Digital and mechanical shockproof mechanism with ESP memory
OSD (on screen display)
NTSC/PAL automatic/selectable
Full-featured remote control
AM/FM PLL synthesizer with 30 preset channels in memory and RDS function
Preset equalizer
High power 50 W x 4
Mini-USB port (cable not included)
iPod docking station (cable included)
Bluetooth hands-free function
The AURA™ advantage!
Unlike other satellite navigation systems, Truchmate warns you of specific speed limits for the class of the vehicle you are driving. In addition, you can update Ventura through the AURA™ speed camera workstation database 24 hours a day, 365 days a year.

Many of the most common satellite navigation systems with speed camera detection provide updates every 3 to 4 months, while our dedicated data collection team updates AURA™ daily. As soon as you add a new speed camera, you can download its data right away. For us, any coverage of less than 100% cannot really be taken into account.
Snooper guides you easily from point A to point B without losing a single point on your driving licence.
Provides early warning of:
Speed cameras
Traffic lights with cameras
Average speed detection systems
Road works cameras
Restricted traffic area cameras
Accident risk zones
High risk areas
Prices
600-2330

Snooper AVN S7000 Truckmate EU

964,00

€
Prices include VAT
Prerogative
Truckmate Technology
Removable and Motorized LCD I
ncasso ISO DIN 1
7" LCD Touchscreen 234x1440
DVD/DVDR/DVDRW/VCD/ CD/CDR/CDRW/MP3/MP4
50W x 4 Channels
Aura Technology Safety Cameras
Bluetooth Handsfree Technology
Equipment
Remote control with Full Functions
Accessories
Prices include VAT
Series
Touchscreen
All SNOOPER satellite navigator models have a high-performance touchscreen that is easy to use and responds quickly to commands given to it. Ideal for a tool created specifically for use in the car.
Speed camera
database All SNOOPER satellite navigators have an internal SD card (Micro SD for the S 280 EU model), which once extracted and inserted in the PC, through the SNOOPER website, you can periodically download the latest update of the SNOOPER AURA speed camera database.
Bluetooth
technology We all know how important it is to respect the highway code, but often we need to keep in touch with the world around us through our mobile phone. With the Snooper satellite navigators we can make this possible and above all safe, in fact the models S600, S2000, S6000, S7000 and AVN S7000 have a Bluetooth device that allows us to connect our mobile device to our navigator and make sure that we can drive safely, comfortably holding both hands on our steering wheel. For vehicles that produce some background noise, an additional component, the microphone extension, is available.
Integrated
MP3 player All Snooper navigation models have an integrated MP3 player inside, so you can make long trips listening to our favorite music directly from our satellite navigation system. Syrius PROLINE Ventura comes with a headset cable but you can also connect an FM radio device (not included) to listen in stereo to both your navigation instructions and your favorite music.
Ventura
navigation system The S2000, S7000 and AVN S7000 models are also available with the brand new Ventura softweare. This softweare was created specifically for travel on board of a motorhome or caravan. It is a unique system that allows you to travel through routes designed specifically according to the length, weight of our means of transport and the search for ACSI Eurocamping campsites. You will have the opportunity to choose from 8600 campsites in 29 different countries!
Multi-route
technology Snooper products are not only different from all others for their innovative and attractive design, but also for their expertise in creating softweares that are always at the forefront, such as the brand new function that allows us to create a multiple route. This function allows you to set up a single route with up to 16 different destinations, specifying only the postal codes. There will be no need to stop and reset a new route because the route of an entire trip will be calculated in a few seconds.
Auto
Mode The models that support the Ventura softweare have been specially designed to move easily and safely with caravans and motorhomes. Nevertheless, the instruments with Ventura technology have a configuration intended for driving in a car, in fact, just select it to be able to drive safely in a normal car, so, being a portable device, you can simply move from one vehicle to another.