The 5500 is the top-of-the-range portable weather station in the Kestrel range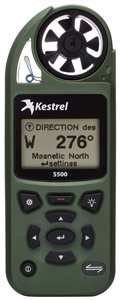 The Kestrel 5500 is a powerful portable weather station that can detect a large amount of data and transfer it to smartphones, tablets, PCs or MACs.
Description
The Kestrel line is known worldwide for the superiority in the accuracy of the data collected and for the durability of the instrument. Today the Kestrel 5500 is at the top of this historic product line.
The Kestrel 5500 is not only a weather data collector for its own sake, but also a tool that can communicate with smartphones, tablets and PCs to create a weather station suitable for the most demanding professional needs.
The LiNK model connects via Bluetooth to smartphones or tablets and can be managed with a very professional app, which can be downloaded free of charge. The App is available for both Android and iOS devices. While the model without LiNK is not able to connect via Bluetooth to smartphones and tablets.
To be connected to a PC with Windows operating system, you need to purchase the USB cable separately or, for the model with LiNK, the LiNK Dongle Bluetooth accessory.
Compared to the previous series, the screen is larger and offers more definition. It is also equipped with two different backlights, one in the red Night Vision suitable for not being dazzled in case of use in full darkness.
Two models are available, both in olive colour. The first refers to the version without LiNK not suitable for communication via Bluetooth and the other with LiNK (Bluetooth) and Banderuola suitable for use with Smartphones and Tablets.
Prices
180-5500

Kestrel 5500 - Olive

512,00

€

GTIN13:

0730650001989

; Weight:

0.25

kg; Dimensions:

16

x

16

x

3.5

cm

180-5510

Kestrel 5500 with LiNK - Olive

659,00

€

GTIN13:

0730650001965

; Weight:

0.5

kg; Dimensions:

22

x

7.5

x

6.5

cm
Prices include VAT
Prerogative
Weather Readings
Prerogative
100% Made in the USA.
5 Years Warranty.
Certified and Guaranteed Calibration on each unit
Waterproof (IP67).
Float.
Impact resistant according to MIL-STD-810G standard.
Sapphire fan with bearing elements.
Patented technologies to guarantee precision.
App Compatibility
iOS version: 6 and IPhone 4S, iPad 3 or iPod 5 or later versions/generations (only for LiNK model).
Android version: version 4.3 or higher (only for LiNK model).
Windows version: Windows 7 or later (USB cable or LiNK Dongle required).
Accessories
Prices include VAT