WeatherFlow WEATHERmeter weather station for smartphones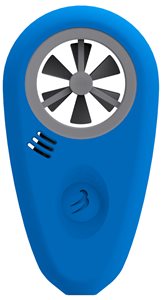 The WEATHERmeter is a small weather station for smartphones that can detect wind, temperature, humidity, pressure and many other data.
Description
The WeatherFlow WEATHERmeter is a small weather station to be housed on your smartphone, or separately up to a range of 30 meters.
The WEATHERmeter is produced by Weatherflow, a company with over twenty years of know-how in the field of professional forecasting, but that a year ago also approached the consumer world with the WINDmeter and that became the first reference as anemometer for action sports.
The WEATHERmeter follows the philosophy of the WINDmeter, but in addition to wind measurements, it also provides readings of temperature, humidity, pressure and many other data. In short, it's a real little weather station that you can always take with you!
The app is available for both Android and Apple smartphones and is really well designed to have a reading of the data that interests us and to share with the world our information via email, SMS or Social Network. In addition, we can also collect information about other people's readings that we can find directly on the map.
The WEATHERmeter has been carefully calibrated at the University of Florida in the Aerospace Engineering department to ensure accuracy to the highest standards.
The WEATHERmeter can be housed in the audio jack of your smartphone, or on a stand with standard 1/4" -20, or on a small cable (via ring adapter supplied) or if you prefer in your hand or in a pocket.
Prices
370-3100

WeatherFlow WEATHERmeter - Smartphone x Station

98,00

€

GTIN13:

0859883004038

; Weight:

0.2

kg; Dimensions:

21

x

12.8

x

3.2

cm
Prices include VAT
Prerogative
Weather Readings
Operation and Accuracy
Wind speed from 0.4 to 120 knots, accuracy +/- 0.5%.
Wind direction from 0 to 360°, accuracy +/- 0.5%.
Temperature from -40 to 125°C, accuracy +/- 0.3°C.
Pressure from 300 to 1100 mBar, accuracy +/- 1 mBarHumidity from 0 to 100%, accuracy +/- 3%.
Smartphone compatibility
iPhone 4S and IPad 3 models or later. Operating system iOS 6.0 or higher.
Other Features
Bluetooth Smart high energy efficiency, with a range of up to 30 meters.
Calibrated at the University of Florida in the Department of Aerospace Engineering.
3-year warranty.
Measures available in all the most popular units today (European, American, etc.).
CR2450 battery supplied with up to 3 years autonomy.
Dimensions 46 x 85 mm.
Equipment
Blister pack, complete with an adapter for the 3.5 mm audio socket of the smartphone, a ring adapter and a CR2450 battery.