Exposure Lights Towards Mk2 front head torch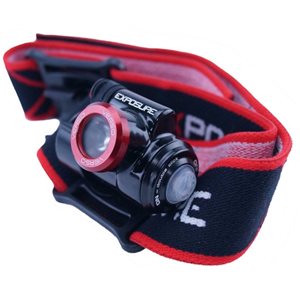 The Verso Mk2 is a front head torch designed by Exposure Lights to the highest British standards.
Description
The Verso Mk2 by Exposure Lights is a headlamp suitable for a wide range of uses, distinguished by its lightness, autonomy and particularly robust structure.
The Verso Mk2 is offered in two different models, one with only the standard battery and the other with an extra battery also housed on the band, to be easily connected when the standard battery runs out.
The Verso Mk2 offers a beam of 250 lumens, adjustable to 3 different intensities and with an autonomy on the minimum intensity (however suitable in most uses) of 9 hours, which becomes 30 with the extra battery.
The Verso Mk2 is equipped with an active thermal control, which allows you to self-adjust the light intensity, if the internal temperature becomes too high, so there will be no interruption of the light source and even the possibility of damaging the LEDs.
The verso is a headlamp really suitable for many uses, from common outdoor activities, jogging, hiking, hiking in general, in short, wherever you need a professional headlamp and built to the highest British standards.
Prices
038-1200

Exposure Frontal Torch Towards Mk2 - Black

157,00

€

GTIN13:

5060369150957

; Weight:

0.4

kg; Dimensions:

18

x

18

x

9

cm

038-1210

Exposure Towards Mk2 with Extra Battery

192,00

€

GTIN13:

5060369150988

; Weight:

0.5

kg; Dimensions:

18

x

18

x

9

cm
Prices include VAT