SPT220 Snooper GPS Tracker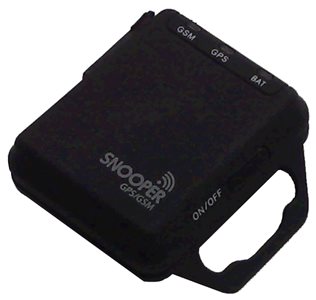 Discontinued
Snooper SPT220 GPS locator that through an optional SIM allows you to receive via SMS the position of the instrument, equipped with internal battery.
Description
Send on-demand or automatically position via GSM/GPRS to monitor the position of people or any other asset. The position can be monitored on a map (satellite, road or hybrid), directly on the mobile phone or on the PC.
The SPT220 can be fastened by passing it through a belt.
It is equipped with an internal rechargeable battery with an autonomy of 15 hours.

The small size (4.8cm x 3.9cm x 1.7cm) and the reduced weight (only 34g), make the Snooper SPT220 a space-saving tool, installable on any property, animal or person, without creating problems of space.
How it works
Information is sent via SMS containing the type of event, battery status, time, coordinates and a link to directly access the map display on the phone itself (only possible if the phone is equipped with WAP or Internet). Alternatively, the coordinates can be entered on the PC to take advantage of the services of a special WEB address of Snooper.
The SMS can be requested from another mobile phone by simple call, or automatically when the Tracker moves beyond a security zone previously set.
To make it operational, you must insert a common SIM card from any operator's mobile phone (except operator Three).
Applications
? Sport: Mountaineering, hiking, hunting, flying etc
? Job: Technicians on mission or operators on site
? Family: People (especially children) or precious goods


Prices
040-0220

Snooper SPT220 Tracker - GPS/GSM Locator

322,00

€

GTIN13:

5019896220190

; Weight:

0.5

kg; Dimensions:

18.5

x

14.5

x

6

cm
Prices include VAT
Equipment
USB power cable with 220Vac adapter