CruzPro: SA20 Anti-theft System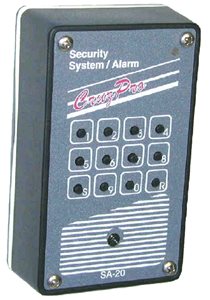 Discontinued
CruzPro SA20 Anti-theft System with digital keypad, compatible with magnetic sensors and infrared PIR detectors.
Description
Activated by a digital keypad, the SA20 from CruzPro is an anti-theft system that can be connected to a wide variety of sensors: from simple magnetic switches, to sophisticated passive infrared detectors (PIR), or normally open or closed contacts. In standby it only absorbs 0.015 A. It can be connected to an external siren or a flashing light. Power supply 12/24 Vdc.
Prices
120-8310

CruzPro SA20 - Anti-theft System

220,00

€
Prices include VAT
Equipment
Comes with two magnetic switches and a pressure sensing switch.
Series
A series of original and useful tools contained in a box that is also suitable for installation in the engine room.