Snooper S900 Ventura: Navigator for motorhomes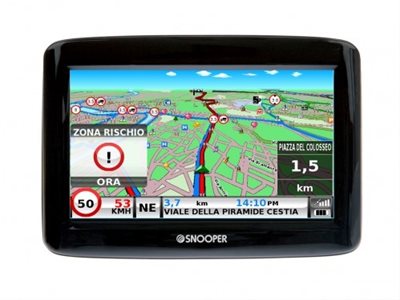 Discontinued
Snooper S900 Ventura satellite navigation system, designed for caravans and campers with information on campsites and equipped resting places.
Description
It was the first satellite navigation system specifically designed for caravans and campers that allows you to enter the length, width and weight of your vehicle. Ventura will calculate the most practical and safe routes, avoiding low bridges, bottlenecks and roads not suitable for vehicles larger than normal.
NEW?!
Complete with information on campsites and camper van parking areas provided by ACSI, BordAtlas and Camperstop.

Select the services you need from the ACSI, BordAtlas and Camper Stop databases and browse up to 20,000 campsites in 31 European countries.
Ventura can also show you a photograph of your chosen campsite.
Thanks to the joint efforts of specialists in campsites such as ACSI, BordAtlas and CamperStop, you will have the best data available on campsites and parking areas equipped for your motorhome.
The database is integrated into the standard equipment. Simply select the country and region you wish to visit and choose from a detailed list of services that interest you, such as campsites with swimming pools, water sports, river or sea nearby, shops, restaurants, etc..

The system will display a list of campsites that match the criteria you have selected, in some cases the photo, so that you can get a preliminary idea of the campsite.

It comes with a complete list of campsites selected and approved by Caravan Club and campsites in the Camping & Caravanning Club circuit, all pre-loaded, so you can quickly search and get to your destination with the touch of a button!
Use the AURA database with international coverage.
Aura is a leader in mapping technology for both fixed and mobile speed cameras.

Behind this project there is a team that works daily with high-tech tools, so that each new speed camera can be entered into the database within 48 hours.
The database also provides you with all speed limits, so you will always be informed about the maximum permitted speed of the road you are driving.

Lane
instructions Special software for processing lane specific instructions provides you with timely lane or lane markings to use when you approach junctions, to help you drive more safely.

My Speed
The speed limit of almost all European roads can now be displayed on the S900 at any time. You can choose the speed limits for cars and the prescribed limits for cars, caravans and campers.
You can also set My Speed to warn you if you exceed the speed limit.

Car
Navigation System The S900 is designed to drive caravans and campers on safe and legal roads; however, it also has a car configuration. Simply switch to car mode and the S900 will guide you on the safest roads for your car.


Multi-route technology The Multi-route function allows you to set up to 10 intermediate routes, specifying only the postcodes. You don't have to stop and look for every single address all the time. The route of the entire day will be calculated and saved in seconds.


NEW?! Your route
is possible to create and save your own routes, use the map view to select the roads you want to travel on, or do a street-by-street search. The "Your route" function allows you to build your own "tailor-made" routes.
Navigation by motorway junction
You can search for a particular motorway junction number and navigate to that junction using the updated "Find by map" function, which accepts the junction numbers as input.
More than 2 million POIs across Europe
A comprehensive list of hotels, restaurants, campsites, gas stations, golf courses, ATMs, airports, train stations, shops and much more. You can only go direct to your destination by pressing a button.
Corridor search by points of interest
You can make the desired choices in the long list of points of interest using the new "Corridor" search feature. This function allows you to perform specific searches along the route of your pre-programmed route.
Driving Timer
Set the Driving Timer to receive an alert when it is time to make a stop. You can specify the maximum permitted driving time and indicate when an alert should be displayed before the next stop. The driving timer clock alerts the driver to the remaining driving time and automatically alerts him when it is time to make a stop.

Sophisticated speedcam detection technology with free updates: no subscription fee!

Unlike other satellite navigation systems, Ventura warns you of specific speed limits for the class of vehicle you are driving. You can also update the speed camera database 24 hours a day, 365 days a year. Ventura uses our exclusive AURA database, which is updated daily. As soon as a new speed camera is added, you can download the data immediately, because the coverage should never be less than 100%. Ventura guides you easily from point A to point B without losing even one point of your driving licence.
Prices
600-2324

Snooper S900 Ventura Lite EU

376,00

€
Prices include VAT
Prerogative
Ventura route planning software
Multiple route planning
Instructions for lanes
My Speed
Your Route
Navigation by motorway junction
Coordinate navigation
Navigation by cardinal points
4.3" LCD colour touch screen
3D direction indicators
Integrated SIRF III GPS antenna
Voice instructions while driving
Built-in rechargeable battery
One-touch" programming of the home and office itinerary
Viewing 2D and 3D maps
Screen colouring of your choice
Extensive list of points of interest