Snooper S900 Truckmate: Car navigation system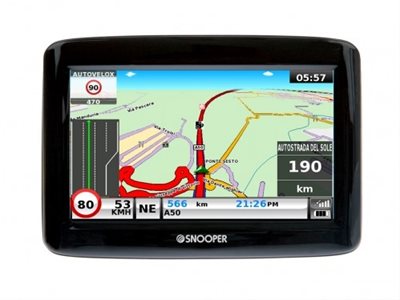 Discontinued
Snooper S900 Truckmate truck navigation system, allows you to create an itinerary based on the characteristics of your vehicle.
Description


TruckMate is a navigation system specifically designed for trucks that always has the right answer
. This software allows you to create a route based on the specific characteristics of your vehicle. It is sufficient to enter the size and weight of the vehicle and the type of load, if any. The TruckMate software will develop a safe and suitable route for trucks.
Routes will be calculated taking into account roads with adequate width and height and excluding roads with low bridges, weight limits for vehicles and many other risks.
In addition to driving you to your destination safely and effectively, TruckMate will choose the most economical route for you. If you have to choose between a route with a considerable slope and one with straighter and flatter roads, you will select the second alternative. .
The Multiple Routes feature allows you to set up to 16 intermediate routes, for example you can make multiple stages before reaching your final destination.


TruckMate is not only designed for navigation of bulky vehicles. The software allows you to easily switch between car and truck navigation settings.
Once the car mode is selected, the routes will be calculated in a normal way, using roads suitable for cars.

Specific points of interest for trucks such as truck parking areas and truck service stations, advanced information on standard service stations: truck service if required, acceptance of driver payment cards and location of available diesel fuel pumps.
The complete list of POIs will provide you with information on many hotels, restaurants, petrol stations, speed cameras, golf courses, ATMs, airports, train stations, shops and much more.
A special software for the elaboration of specific instructions for the lanes of march will provide you with indications of the lanes to be used when you approach the junctions.
My Speed
The speed limit of almost all European roads can now be displayed on the S900 at any time. You can choose the speed limits for cars and the prescribed limits for cars, caravans and campers.
You can also set My Speed to warn you if you exceed the speed limit.

Prices
600-2300

Snooper S900 Truckmate Lite EU

376,00

€
Prices include VAT
Prerogative
Truckmate Technology
Aura Technology Safety Cameras
Multiple Itinerary Planning
4.3" LCD Touchscreen
Integrated SIRF III GPS antenna
Integrated Rechargeable Battery
TMC Traffic Technology