GPS Navigator Snooper S6000 Ventura Lite EU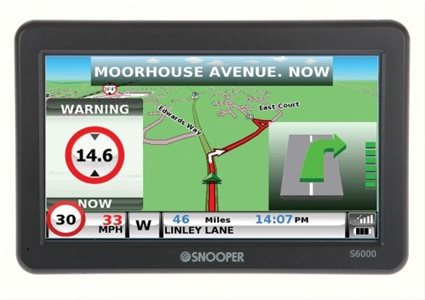 Discontinued
Snooper S6000 Ventura Lite EU, Ventura road technology and signalling AURA speed cameras, Multiple route planning, Bluetooth hands-free kit.
Description
Snooper S6000 Ventura with 7 inch LCD screen. Definitely the ultimate portable satellite navigation system for caravans and motor homes
The S6000 Ventura features a 7-inch wide screen that gives the driver a much more complete view of the route to take. The indications are displayed in larger and clearer characters; the curve-by-curve instructions and the warnings in the presence of low bridges and bottlenecks offered by the S6000 model are therefore immediately visible.
Bluetooth hands-free technology is also part of the standard equipment, so you no longer have to break the highway code to answer a call. But that's not all: S6000 Ventura includes Snooper's award-winning speed camera detection technology, which uses the international AURA database.
You can reach your destination with precise instructions, curve after curve, voice guidance and the ability to plan multiple routes. In fact, the S6000 Ventura uses multi-route technology to calculate a route that can include up to 16 different destinations.

Ventura always has the right
answer Ventura is the first satellite navigation system specifically designed for caravans and motor homes.
It includes a function for defining routes based on the size of the vehicle and the search for ACSI Eurocamping campsites. You will have a choice of 8600 campsites in 29 different countries.
Multi-route
technology Snooper satellite navigation systems have always been distinguished by their elegant design. But they don't just look good, they also offer the same level of performance. Take, for example, our new and exclusive multi-route planning software. This product allows you to calculate a single route that includes up to 16 different destinations by specifying only the postal codes. You don't have to stop and look for every single address. The route of the entire day will be calculated and stored in seconds.

ACSI
campsites database Thanks to the joint efforts of Snooper and ACSI, the campsites specialists, you will have the best data available on campsites. The database is integrated in the Ventura equipment.

Simply select the country and region you want and choose from a detailed list of services that interest you (for example campsites with swimming pools, water sports, river or sea nearby, shops, restaurants, etc..). The rest we take care Ventura. The system will display a list of campsites that correspond to the selection criteria chosen; in some cases, with photos, so that you can get a preliminary idea of the campsite. Once you've chosen the campsite you want to go to, Ventura will guide you there.


Technical specifications:
Ventura route planning software
TMC traffic information technology
Multiple route planning
Bluetooth hands-free technology
Hands-free microphone (optional)
7-inch LCD colour touch screen
Screen colouring of your choice
Integrated SIRF III GPS antenna
Voice instructions while driving
Built-in rechargeable battery
One-touch programming of the home and workplace itinerary
Visualization of 2D and 3D road maps
3D direction indicators
Extensive list of points of interest
The AURA™ advantage!
Unlike other satellite navigation systems, Ventura warns you of specific speed limits for the class of the vehicle you are driving. In addition, you can update Ventura through the AURA™ speed camera workstation database 24 hours a day, 365 days a year.

Many of the most common satellite navigation systems with speed camera detection provide updates every 3 to 4 months, while our dedicated data collection team updates AURA™ daily. As soon as you add a new speed camera, you can download its data right away. For us, any coverage of less than 100% cannot really be taken into account.
Snooper guides you easily from point A to point B without losing a single point on your driving licence.
Auto
Ventura mode is specifically designed to drive caravans and campers on safe and legal roads; however, it also provides a configuration intended for cars. Simply switch to car mode and Ventura will guide you on the safest roads for your car! Ventura is a portable device, so it can be easily moved from one vehicle to another. Two fantastic satellite navigation systems in one!
More than 2 million POIs across Europe
A comprehensive list of hotels, restaurants, campsites, gas stations, golf courses, ATMs, airports, train stations, shops and much more. It reaches its destination directly at the touch of a button.

Provides early warning of:
Speed cameras
Traffic lights with cameras
Average speed detection systems
Road works cameras
Restricted traffic area cameras
Accident risk zones
High risk areas
Prices
600-2418

Snooper S6000 Ventura Lite EU

512,00

€
Prices include VAT
Prerogative
Ventura Technology
Aura Technology Safety Cameras
Multiple Itinerary Planning
7" LCD Touchscreen
Bluetooth Handsfree Technology
Integrated Rechargeable Battery
TMC Traffic Technology