Snooper Ventura PB50 Portable Accumulator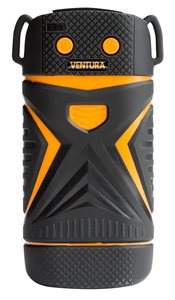 From Snooper the small portable battery to charge any portable device such as smartphones, tablets, MP3 players etc..
Description
The Ventura PB50 is a small portable battery that weighs only 140 grams, but has a capacity of 5600 mAh, so it can fully charge any device from the USB output in a very short time.
Its compact size and lightness, will allow us to store it in a small pocket and we will have the security to carry with us all the energy we need for our portable devices.
The construction is finished in rubber and makes the PB50 shockproof, waterproof and dustproof. It is equipped with an emergency light with SOS functionality and an infrared laser pointer which is also very useful to signal a dangerous situation.
To supply voltage, it uses a 5 Vdc USB output, which can also be connected to the cable supplied with the Micro USB output. If you need to power accessories that use a higher voltage, it is suggested to opt for the PB100 model.
Prices
374-1050

Snooper Ventura Powerbanks PB50 - 5600 mAh

60,00

€

GTIN13:

5019896542018

; Weight:

0.5

kg; Dimensions:

26

x

16

x

5

cm
Prices include VAT
Prerogative
5600 mAh capacity on high quality Lithium battery.
Recharges from USB or Ventura Solar Packs to store green energy.
Waterproof, dustproof and impact-resistant.
SOS signal light.
Infrared laser pointer.
Dimensions 100 x 50 x 27 mm. Weight 145 gr.